GTBank – Ogun State Principals Cup Season 3 Finals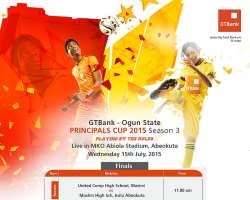 The Finals of the GTBank–Ogun State Principals Cup competition will hold on Wednesday 15th July, 2015 at the MKO Abiola Stadium, Abeokuta, Ogun State. The most widely followed youth soccer competition in the state enters its concluding phase as four schools in the male and female categories are set to compete for the highly coveted winner's trophies.
The competition is aimed at actively engaging the youths through sports whilst promoting the values of excellence and fair play. It fosters camaraderie and provides a platform for identifying, nurturing and grooming young and talented players amongst Secondary School students in Nigeria.
This season's competition, tagged "Smash All Barriers" featured over 344 teams from the 4 qualifying zones – Egba, Ijebu, Remo and Yewa – in Ogun State, thereby attracting a more robust participation than the previous editions, with wider audience and followership
United Comprehensive High School, Wasimi, Abeokuta will take on Muslim High School, Isolu, Abeokuta in the female category while St, Anthony's Grammar School, Esure, Ijebu Mushin will play Pakoto Senior High School, Ayede Ifo in the male finals. This will be the first appearance at the final stage for all the finalists in both the male and female categories.
According to Segun Agbaje, the Managing Director of GTBank, "the Principals Cup Competition paves the way for youths to cultivate their sporting talents while fostering and building a healthier lifestyle at a critical stage in their lives". He enjoined the students to imbibe the spirit of fair play, hard work, and discipline, which are some of the core values of GTBank.
The Executive Governor of Ogun State, Senator Ibikunle Amosun, and the Managing Director of Guaranty Trust Bank, Segun Agbaje are expected to hand over trophies to the winners of the GTBank-Ogun State Principals Cup Season 3 competition.
At the end of the tournament, cash prizes of N1, 000,000, N750,000, N500,000 and N250,000 will be presented to the 1st, 2nd, 3rdand 4th place winners in each of the male and female categories. GTBank also provides sports equipment such as balls, goal post nets and corner flags for schools throughout the duration of the competition.
Guaranty Trust Bank plc is one of the few Nigerian financial institutions that have maintained a defined Corporate Social Responsibility (CSR) strategy since its inception in 1990. The Bank actively supports in-classroom and out-of-classroom educational programmes, infrastructure development, students' scholarship and teachers training across Africa.