Gist from the set of The Palace, starring Liz Benson, Yul Edochie, Obi Okolie others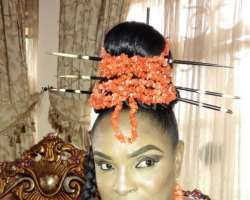 With a functional storyline and disputatious dotting, The Palace is another yet-to-be aired television series from the stables of Divine Touch Productions Limited. It will for the first time be a royal film filled with Nollywood celebrities to be aired and produced by an independent producer.
As earlier stated from the set of The Palace, the producer and head-honcho of the production crew, Kingsley Okereke said before he embarked on the shoot, he had a picture in mind, which evolves on producing a quality television content that will be a norm from Nollywood kind of movies.
Interestingly, this yet-to-be aired series will be leaving movie-buffs with questions of if the storyline could be described as true-life or just an imaginary work of the writer, as the storyline and plot in the words of actor, Obi Okolie is convoluted. In sequence, Ugochukwu Favour-Mayor gives a breakdown of what he saw on their set:
With an impeccable plot and storyline
With an impeccable storyline, it divulges the story of a king who married but got betrayed by the wife whom he had so much love and trust for. After battling with the emotional upset, he bounced back but developed a high level of hatred on women.
As if that wasn't enough, his son and heir apparent to the throne took the same line of lifestyle. Could they all cope with it till the rest of their lives? Even when another heir apparent will be produced by a woman? These are the intrigues to unravel in this suspense-filled series.
The Palace as being the first television series in Nigeria
It wasn't a self acknowledged fact, as it came from notable Nollywood screen actor, Yul Edochie. The Palace would be hitting on air as the first royal film ever to be rolled in Nigeria. And to what makes it special, it is a star-filled one from an independent producer.
According to Yul Edochie, "I don't think I've seen a television series with royal settings before, especially in Nigeria. And again, the storyline is wonderful. Also, the cast, they are awesome. Here, we have the great Liz Benson, Obi Okolie, I and host of others. Production wise, everything is awesome. The costume is excellent. We shot with good cameras, and everything is high, even as we made progress," he enthused.
All thumbs-up went to Yul Edochie
How can a culture built on swag and braggadocio suddenly lose its gladiatorial antecedents? In the person of Yul Edochie and the character he played in The Palace, it can never be traced missing, as his professional delivery has won him thumbs-up for a job well-done.
Adaeze Eluke could not hold her words back as she went further to acknowledge him: "Playing the role of Amaka was a bit challenging, though it brought out the best in me. And working with Yul Edochie was a good thing, as he complemented my role. Let's take for example the Igbo version of this film; he helped a lot in smoothening it so well for me."
For Queeneth Hilbert, it was Yul Edochie all the way when she said, "I give credit to Yul; he helped me in getting my lines so well. It's a very lovely job, and I'm happy I acted alongside others. Not just did I act, I also learnt something from it. Like now, I've learnt to be tolerant and patient."
Secret behind Liz Benson's wowing costumes
The return of Nollywood's veteran actress, Liz Benson-Ameye has attracted a resounding attention to the make-believe industry, especially from the quarters of her comatose fan base.
Not only did she return, but her majestic entrance which came as a result of her costumes and appearances on screen. All credits to award-winning costumier, Chiemela Nwagboso who single-handedly designed the whole outfit on the body of Nollywood's screen goddess.
Last year's Africa Magic Viewers Choice Awards winner, Chiemela Nwagboso is leaving no stone unturned, as he is consistently adding value to his ideal skill. As being on the forefront of launching talk-town wears, it has placed him next to the hearts of fashion-buffs.
Fashionably, elegant actress, Liz Benson-Ameye will be having fashion enthusiast among her fans to thrill in this yet-to-be aired television series.
Classical makeup, but challenging, as confirmed by Liz Benson
Of all the jobs she had featured in, Liz Benson didn't hide words in hailing the make-up artiste, Eze Oge in the yet-to-be aired television series, The Palace. Further on the makeup, she noted it as being one of the most challenging things ever experienced.
In her words: "It's been a while for me, at least since I played this kind of role. Taking it into cognizance from the break I had, and trying to fix myself into the role, I will say it's a challenge. And here, I will say the major challenge was making me up.
"The makeup aspect wasn't easy. They tried to make me look like a real princess, and it was even an everyday thing; though I'm not a makeup person. But outside the makeup stuff that took almost an hour each day to fix, I will say there is nothing else. For characterization, it's just like every other movie I've acted in the past."
In line with what Liz Benson stated on characterization as not being a challenge to any good actor, Stephanie Scott said, "I played the role of Udoka, who happens to be Liz Benson's daughter and Yul's cousin. It was challenging, yes, but because it's something we love doing that was why we got into it with our very best. To me, it's just a normal thing for every actor."
The character, Zara as the soul of The Palace
In all the intrigues and suspense, everything surrounds the character, Zara. It was played by burgeoning actress, Uju Okolie. It's the role of a young lady who was in a race with three of her friends, but ended up being the sole winner of whatever that went on right inside the palace.
According to Uju Okolie, she said, "it was actually tough and challenging. It's one of the biggest jobs I've ever been into. And here again, it got so tough because we were doing two things at the same time; like doing the English and Igbo versions at the same time."
To spur more suspense, Zara ended up being the chosen one in the eyes of the Prince and the King. Would that not break the love between father and son? Wait to watch this suspense-filled television series.
The King as being an embodiment of authority, Obi Okolie fitted it
Looking out for maturity and uncanny interpretation of lines? Count on Nollywood actor, Obi Okolie. To him, delivering the role of an "Igwe" in The Palace wasn't a child's play, even as he went down to recount on the challenges he encountered: "This is a big project with a convoluted storyline. It has so many branches. It is a story that will keep anybody spellbound, because it was well crafted."
With a very sensitive director like Chidi Anyanwu
It takes focus and sensitivity to reel out a good movie with fewer errors. Adjudging the one of The Palace, the director, Chidi Anyanwu didn't lag behind, as his presence got felt on the set of this yet-to-be aired television series.
Narrating how challenging it was being behind the scene, this director who happens to be a member of the Director's Guild of Nigeria described the series as one that had all the Nollywood's best in one project.
He said: "The storyline is on point. We assembled the best of Nollywood. Here on set, we have the old and young, and they are all great artistes. I know we've done a good job, and we are hoping to have it out so well.
"Movie making has always come with its own challenge, and this one is not an exception. We have a royal movie here that fixing the locations alone is a more challenging task on us. Like for example, we couldn't get all that we wanted in one location, so we had to visit different places and then merged them as one," he recounted.
The producer whose eyes are on the ball
The producer, Kingsley Okereke is one man who hates to do things in half measures. And it was evident in The Palace, as he got resounding commendations from the lead casts, especially from veteran actress, Liz Benson-Ameye.
She described him as a young man with a broadened vision to things, adding that since she knew him, "he's been a hardworking person with a resolute foresight to his aims and goal."
Roll call of casts
The Palace featured the likes of veteran actress, Liz Benson-Ameye, Yul Edochie, Obi Okolie, Chiwetalu Agu, Andy Ike, Geraldine Ejiogu, Stephanie Scott, Adaeze Eluke, Queeneth Hilbert, Uju Okolie, Chinedo Onyeka, Ezelagu Nnadozie Kingsley, Jazzy Okey, George Chibueze, Ogbuehi Emmanuel alongside others.