My focus is to develop Enugu State, says Gov. Ugwuanyi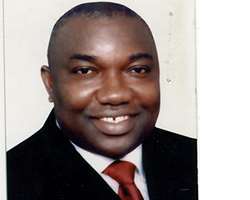 Governor Ifeanyi Ugwuanyi of Enugu State has said that the development of the state was paramount in his mind.
He stated that his administration will not fight the 'old guards to settle old scores',  adding that 'where there is no peace, the people will not make meaningful progress.
Ugwuanyi said this on Thursday night shortly after he announced his first set of appointments since assuming office.
The governor also said that he had reached out to eminent indigenes of the state, including past leaders and opinion leaders, to join hands with him to move the state forward.
'As we are reconstituting, we cannot ignore the experiences of formers leaders of our state.'
Ugwuanyi said that since assumption of office on May 29, his administration had introduced a couple of new things that would strengthen governance and block financial leakages.
He said that some of the unscheduled visits he made in the first and second weeks of his administration to selected local government areas and public schools had impacted positively on the state's workforce.
He said that the apathy that characterised performance of official duties in the various sectors had waned as workers no longer took their duties for granted.
'We wanted to check the actual number of workers in each local government area and since our visits, attendance to work has improved.'
The governor added that his visits had made him aware of the suffering of residents of the state.
'We were touched by the plight of the people at the various places we visited, particularly the public schools and hospitals.
'The government is willing to make life meaningful for our people but our bane is dearth of funds. We have tried the much we could to alleviate the sufferings of the people we met.'
He said that the government made a donation of 10 modern braille machines to blind students at Enugu State University of Science and Technology (ESUT), Enugu.
Ugwuanyi said that his administration had also resuscitated the Enugu Marketing Company in order to maximise the benefits of the proposed free trade zone in the state.