'My wives know I'm a criminal' -Kidnapper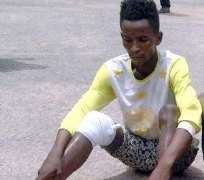 A 27-year-old suspected kidnapper, Rasheed Adetunji, who was paraded alongside other suspects, has confessed that his two wives knew he was a criminal and not a kidnapper.
He also revealed that he used part of the ransom money collected from victims to get married to them.
According to the Osun State-born Adetunji, his love for women is responsible for his having two wives at his age and had hoped to marry more before he was arrested.
He told Vanguard that one of his wives had a premonition of his current travails and warned him to stay away from members of his gang.
He regretted that he would miss his wives and family who, he claimed, he was trying to make happy.
On how he joined the kidnapping gang, he said it was Niyi Omosola that introduced and placed him and other members of the gang on an oath administered by a native doctor, known as Baba.
The other suspects are Ifeanyi Chukwuleta, 25, from Oguta in Imo State, and Kolawale Alani, 26, from Ekiti State.
The suspects were arrested after the kidnap of a 62-year-old woman, Kudirat Adeboye, along Eleko-Epe Expressway by six armed men.
It was gathered that the gang contacted the victim's family and demanded N50 million but eventually accepted N3 million after six days of keeping the victim.
The kidnappers directed the victim's son to drop the money at a spot on Ijebu-Ode Road, where one of the kidnappers came out from the bush to collect the ransom.
Operatives of Special Anti-robbery Squad, SARS, who were deployed to the area pursued the kidnappers and one of them, Niyi Omosola, was caught.
He said it was Omosola that took operatives to a forest along Epe Road where the victim was rescued. Omosola later died from the gunshot injuries he sustained. Vanguard