WORLD CUP: NIGERIA CAN GO ALL THE WAY – LAGERBACK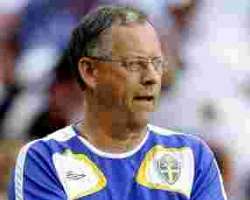 Lars Lagerback is Nigeria's 23rd expatriate coach since Englishman John Finch in 1949, but he is the first Scandinavian to manage the Super Eagles.
An impressed President of the Nigeria Football Federation, Sani Lulu, hailed Lagerback as Nigeria's own 'Special One,' declaring that 'the coach's bearing and sure-footedness will impart the right mentality and new spirit on our players.' In this exclusive interview with FIFA.com, coach Lagerback shares his thoughts, impressions and expectations surrounding his first-ever adventure in Africa.
Congratulations on your
appointment as coach of Nigeria. How has it been so far working with the Nigeria Football Federation?
Thank you. I have really been impressed with the hospitality I have received here. I have also met many very positive people. It has been a fantastic time with some kind words for me and also some tough words. The Nigeria Football Federation has really done a good job by planning for friendly matches and ensuring that the team is busy which will help me also make quick assessment of the players. I think we can do something, but of course I wish we had more time for preparations.
Nigerian football is going through some trying times. Could you say this is a difficult position to take over right now?
No team could be said not to have problems. The basic thing for a team is to have good individual skills, and I can tell you sincerely that from the number of matches of the Super Eagles that I have watched, it is evidently clear that Nigerian players have the basic ingredients required in football.
So, the next thing to consider is the attitude of the players themselves. That is – are they ready to work 100 per cent for the team? Are they ready to work from their hearts? What does it mean for them to play in the national team of their country? And also would they play the way everybody expects and also do their best to lift the team all the time? If they can do that as well as have the required individual skills, such players will always have the chance to play many matches for the Super Eagles under me.
Both the public and the press have accused Nigerian players of not being committed to the national team. How do you plan to motivate these same players for the big task ahead?
It is important for a player to be proud of wearing his country's shirt at the World Cup or any other competitions. What I will like to do now is to speak with many of the players and try to explain to them the joy and importance of playing for the team in the first place. I need to tell them that even if they make so much money in football playing for clubs in Europe, when it comes to the national team you must be proud of playing for your country. So I will try to motivate them and explain that to them as best as I can. But if I find out that a player doesn't want to do his best for the team, he shouldn't be in my squad.
Do you already have an idea of players you will pick for the FIFA World Cup in South Africa?
I watched some of the games Nigeria played in Angola during the African Nations Cup, and I also watched some other video tapes involving the team. So I believe I know much about the team already. Although it is early to say who and who among the players I would like to work with, but I think the factors I would consider in picking my players are who among them are most skilful and the best players of the lot. I will also beam my searchlight on the local league in Nigeria and the rest of the world to also get the best players for the World Cup. I will then draw a shortlist and from this I will try to pick the best possible squad for the World Cup.
As a coach you can't promise any player that he will play in the World Cup. Some players may even not play a minute in the World Cup. So you can imagine going for pre-camp in three to four weeks, hopefully four weeks right up to the finals, and you don't have one minute playing time – either you were finally dropped or the other players are doing well and you don't want to change a winning team during the competition. That could be really tough. So, this is one of the situations in football and players have to prepare for that.
It is important for me that a player understands the basic needs or facts in football and what is the most important thing is what they have to do both on and off the pitch. You can use some statistics to show them that. For instance, if you are a winger and you have 50 crosses in a match and only one is good, then there is a problem. So if you want to play for me as a winger in the Super Eagles and only one of the 50 crosses you played is good, that means you are not good enough to play for me. That means you have to focus and practice more before you can have a chance in my team.
Would skipper Nwankwo Kanu have a role to play in your team?
I would like to work with Kanu because for me he is a kind of a legend. I can remember when I led Sweden to play against Nigeria at the 2002 World Cup, he was a fantastic player. But everybody is getting older by the day so sometimes you do not qualify any more. But before answering your question on whether Kanu will be in my World Cup squad like any other player who wishes to be part of the squad, I need to see Kanu and other players to decide. I would like to see them, meet them and also talk to them. When I have seen them, I can now answer your question on Kanu. But for me he has been a fantastic footballer, maybe one of the best in Nigerian history.
What formation do you plan for Nigeria to play?
As a coach I have my own philosophy, but mainly for me is to combine the individual skills we have in the squad. First, you have to know the players you will pick for the tournament before you determine the formation to adopt. We have played 4-5-1, 4-4-2 because in my opinion when you meet very good teams, and Sweden is also one of the best teams in my opinion, you have to be realistic in choosing the systems that will give you the best chance of winning. That is my aim with the Super Eagles. I have to wait and study the team first before knowing what pattern or system would be the best.
Will Nigeria have a successful FIFA World Cup?
If I did not think so, I wouldn't have taken the job in the first place. I can make an appreciable impact with the Super Eagles despite the short time between when I took up this job and the World Cup. It is true that the time before the World Cup is short, but you have to find a way out, pick your squad and when it comes to the training camp exercise, I hope I will have at least three weeks to work with the players. In three weeks, you can do a lot. I am very hopeful.
The NFF have set a semifinal target for you at the FIFA World Cup. Is this a realistic target?
Nigeria has a great chance to do well in the World Cup. Even the time I coached a small country like Sweden, I have always had the ambition and the belief that we can win matches and do well. If you don't believe that you can win matches in a tournament as a team and as a coach, then you don't deserve to be at the competition. Playing football at this level is all about winning. I think there is a realistic chance for Nigeria to go a long way in the World Cup in South Africa.