Jega summons Imo REC as voters protest guber poll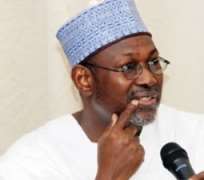 Chairman of the Independent National Electoral Commission (INEC), Professor Attahiru Jega, has summoned the Resident Electoral Commissioner (REC) for Imo State, Dr. Gabriel Ada, and the Returning Officer for the state's governorship election, Professor Oye Ibidapo-Obe to Abuja.
A source at INEC, who pleaded anonymity, told Daily Sun that the development followed different petitions and complaints trailing the April 11 governorship election in Imo State. The electoral officers, the source said, were expected to brief Jega on the irregularities in 23 of the state's 27 local government areas that compelled the commission to declare the governorship poll inconclusive.
Daily Sun gathered that Jega was worried about the circumstances leading to the cancellation of over 150,000 votes in the governorship election. At least, election in six wards were cancelled in Oru East Local Government Area.
In a related development, a group of voters numbering over 30,000 yesterday, petitioned Jega over the governorship election in Imo, urging him to cancel the entire governorship election outright.
In the  petition dated April 20, 2015 the aggrieved voters' lawyer, Ahamefula Njoku, said many of the, 'result sheets were changed, swapped, doctored or falsified. Ballot boxes were also snatched at gun point.'
Against INEC guidelines 'which stipulate that only voters with permanent voter cards could cast their votes,' he said, 'many voters without PVC were allowed to vote, including under-aged persons.'
Njoku added: 'Another set of our clients, who are also represented in this matter informed us that the name, symbol or logo of Hope Democratic Party, which many of them wanted to vote for, was curiously missing from the ballot papers given them by INEC officials, thereby effectively disenfranchising them. They contend that this is a clear violation of their constitutional rights and you are in the best position to remedy it.
'These issues have generated so much tension and controversy that if not properly addressed, could lead to violence and destruction of lives and property.'
Insisting that the election was a sham, counsel to the petitioners said: 'Our clients have asked us to demand from you, an immediate cancellation of the entire results announced in Imo State so far and stop the re-run election scheduled for  April 25, 2015 and conduct a brand new election on or before the April 28, 2015 where these fundamental breaches can be corrected.' The Sun