Buhari leading with landslide in 10 LGAs of Borno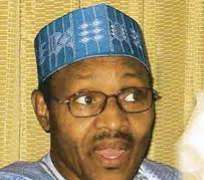 Collation of results of Saturday's presidential election is underway at the state headquarters of the Independent National Electoral Commission in Maiduguri, the Borno state capital.
Given the results so far announced by INEC, the candidate of the opposition All Progressives Congress, Muhammadu Buhari, is so leading in about 10 local government areas.
Final results from the 36 states and Abuja will be collated in Abuja where the winner of the election would be announced.
Residents of most of the local governments areas, which results have been announced, voted at the internally displaced people's camps in Maiduguri.
The result by local governments [in Borno state] for the two major contending parties , the APC and the Peoples Democratic Party [PDP], is as follows:
The result for the two major contending parties -APC and PDP is as follows
Marte Local government:- APC scored 4262; and PDP got 242 votes.
Kala Balge local Government area – APC – 1766; PDP – 98 votes
ASKIRA-UBA Local government – APC – 5220 and PDP – 1308 votes
Ngala Local government:- APC 2,764; PDP -241 votes
Kukawa Local government- APC scored 5662; and PDP – 230 votes
Mobbar Local Government- APC polled 4487; PDP – 108 votes
Abadam Local government area:- APC scored 2657; PDP – 70 votes
Nganzai Local government:- APC got 3,521; and PDP got 211 votes
Kaga Local government area:- APC scored 6133; PDP got 202 votes
Mafa Local government area, APC polled 7,140; and PDP got 178 votes
Most of the above local government areas voted at the IDP camps