Revealed: Ambassadors bribe to remain in service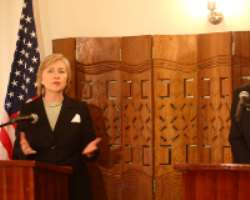 All is not well within the Nigerian Ministry of Foreign Affairs, Abuja as reports emanating from that institution indicate that some of Nigeria's accredited Ambassadors to a number of foreign countries have illegally remained in service
more than six (6) months after they ought to have been retired, in line with extant policy, rules and regulations governing tenure of career foreign service officers. The Nigerian Ambassadors to Liberia, La Cote d'Ivoire and Germany, amongst others, have been fingered in a scandal that threatens to undermine and tear asunder the harmonious working environment between officers and staff of the Foreign Ministry.
The Ambassadors in concert with several other unnamed persons in the Foreign Ministry and the Office of the Head of Service, have remained in service without due cause or authority since July, 2009 contrary to the much vaunted position of the Yar'Adua administration, which anchors its actions and policies on the 'rule of law' and due diligence. Neither the Foreign Ministry nor the State House, Abuja have shown any evidence in support of tenure (career) extension for the affected officers by President Umaru Musa Yar'Adua at any time within the last six (6) months to justify their continuation in service.
The affected diplomats may not rely on precedence either in support of this patently illegal, unpatriotic, unfair and criminal abuse of the Nigerian nation and the rules that gird her institutions. As a matter of fact, in 2008 Ambassador Lawal Dutsin-Ma attained the mandatory retirement age of sixty (60) years and was forced to leave service, even though he was appointed Ambassador to India by President Yar'Adua a few months earlier and had barely arrived in New Delhi. His request for a one (1) month extension of his appointment as Ambassador was turned down by the Foreign Ministry for non-conformity with Foreign Service Regulations. Surely, what is good for the goose is good for the gander. Perhaps, Ambassador Dutsin-Ma's undoing was his reluctance to furnish payments into certain offshore accounts in favour of important individuals at the Foreign Ministry and Bullet House.
What is most disturbing, here, is that one or more of the affected Ambassadors has illegally remained in service for about five (5) years now. This envoy reportedly joined the Federal Civil Service in the 1970's and gave his year of birth as 1945, but on transferring his service to then External Affairs Ministry a few years later, his year of birth was changed to 1947 and only a few years ago, further revised his year of birth to 1949, accomplishing all of these with the active collaboration and input of his spouse - a mid level officer at Bullet House. Needless to reiterate, here, that these actions constitute an offence of forgery/ distortion of official records and grounds for criminal prosecution and imprisonment. As matters stand today, several career officers at the Foreign Ministry who aspire to attain the rank of Ambassador have been unfairly denied an opportunity for career advancement and progression because of the inordinate ambition of these others to indefinitely remain in service. This situation is beginning to create disaffection and bad blood in the Foreign Service and allegations of tribal/ethnic colorations are beginning to fly about the place, as reasons for their continuation in service. Blame for this should be laid at the Establishment Section of the Office of the Head of Service and the Office of the Permanent Secretary in the Ministry of Foreign Affairs for failing in their duty of service to the fatherland to cause these errant Ambassadors to bow out of service forthwith and in their place, recommend suitable career officers, to Mr. President, as replacements. It is instructive to point out that a lame excuse has been advanced in some quarters of the MFA to justify the continuation in service of these errant Ambassadors- namely, the need to avoid creating a vacuum at the affected Missions. But other seasoned diplomats have dismissed such tawdry and self serving arguments. In the first place, no such vacuum arises with the retirement of any Ambassador because the system makes arrangements for a Charge D'Affaires ad interim (CDA) to assume temporary authority, in the absence of a substantive Ambassador. In addition, at inception of the Yar'Adua administration in 2007, most of the nation's Embassies/High Commissions were successfully managed by CDA's until the appointment, confirmation and deployment of new Heads of Missions in the second quarter of 2008.
In summary, the Nigerian nation has remained resolute and strong despite years of official abuse, debasement and tortured strangulation by all manner of 'petty minded' public officials, simply because a great many more patriotic minded public servants do carry out their assignments with aplomb. Accordingly, we call on all concerned in this sorry situation to give heed to the law; Nigerian law. Respect for the rule of law at all times, without fear or favour, is what makes our dear country strong. For purpose of clarity, it is important to refer to Regulation #28 of the Foreign Service Regulations (a sub-set of the Public Service Rules 2006) which states, "The compulsory retirement age for all grades in the Foreign Service shall be 60 years or 35 years of pensionable service, whichever is earlier. No officer shall be allowed to remain in the Foreign Service after attaining the retirement age of 60 years or 35 years of pensionable service, whichever is earlier." Nothing could be clearer than the express wording of this provision of the Nigerian Foreign Service Regulations. To do otherwise, is to be in breach of this regulation and therefore liable to investigation and prosecution. To treat our country and her rules and regulations with contempt by some of our officials ought to be condemned by all. Culprits should be sanctioned, including having them make a refund of all monies, illegally earned in the process. The exercise of authority within the bounds of accepted regulations and laws is what distinguishes a fit and proper public official from another who is not. The latter category of public officials are, with due respect, CROOKS.
William Agbor
Abuja Nigeria
|
Article source