WOODS TO PLAY WITH COUPLES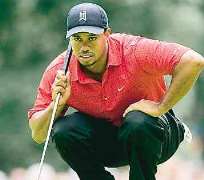 Fred Couples, one of golf's most experienced campaigners and the US Presidents Cup captain, will play a US Masters practice round with Tiger Woods at Augusta National on Monday.
Couples said he was not sure what time he and Woods would play on Monday, speculating that it might not be until after the disgraced world number one's 2pm press conference.
'I've played with him six or eight times the last 10 years in a practice round there, so it's not like I'm trying to get around him,' said the 1992 Masters champion.
'He's the best player in the world, he's won it a bunch of times, he knows how to play the course, and even at my age I still learn some of the nuances about Augusta, and that's why I'm playing with him.'
Couples said he expects four-time winner Woods to come out with all guns blazing at the Masters, which will be the world No. 1's first tournament in nearly five months, since reports of marital infidelity first surfaced.
'We all know he made a mistake and we'll see how he overcomes it. I'm a friend of his, not his counsellor but I know at Augusta he'll be ready to go.'