2015: Don't trust Obasanjo, Fayose tells Nigerians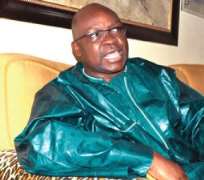 Ekiti State Governor, Ayodele Fayose, has described the declaration of support for the All Progressives Congress presidential candidate, Gen. Muhammadu Buhari (retd.) by former President Olusegun Obasanjo as a political somersault.
The Governor asked Nigerians to ignore Obasanjo because he was more of a liability than a gain in the ongoing political scenario.
He asked if Obasanjo had any electoral value as a politician since he had been consistently defeated by the opposition parties in his own place before and after he left office as the President of the country.
Fayose, who spoke through his Chief Press Secretary, Mr Idowu Adelusi, in Ado Ekiti on Wednesday, said Obasanjo's endorsement of Buhari had clearly shown that he had lost wisdom.
He said, 'Leaving President Jonathan and vote for Buhari is like to abandon the road and enter the bush. God forbid we enter the forest which we may not come out from for years.
'How can you follow somebody who because of old age is senile, but being propelled by his followers to fly the plane at all cost. Won't that plane crash?'
The governor said only gullible minds will obey his call that Buhari should be voted for‎ saying that Obasanjo should not be trusted for anything.
According to him, anybody that follows the word of Obasanjo is doing so at his own peril because the former President is no more in tune with modernity. – Punch.