Boko Haram: Police Averts Bomb Attack, Detonates 19 High Calibre Bombs in Adamawa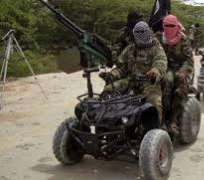 Adamawa state would have been turned into a mourning ground ,for the first time a high calibre bombs which was suspected to might have been planted by members of Boko Harams was
averted by the state police command following the discovery of 19 high
calibre Bombs at Song Local Government which is a few minutes drive to the capital city of Jimeta with which terrorist wanted to launch attack on the state.
The commissioner of police in Adamawa state, Gabriel Adaji unravelled the purported evil plan of the insurgents in a Press Conference in Yola yesterday said the bombs
were ready to be used when they were detected adding that they were at
90 percent completion and only need to be connected to batteries to
work.
The disclosure by the commissioner of police came barely six days
after six suspected suicide bombers were apprehended by soldiers in
Yola, the state capital.
"Something that would have caused a hell of sorrows to the state was
averted. One of the bombs is capable of bringing down a 10 storey
building. They aimed to destroy Jimeta " Adaji said.
He said that had the terrorists succeeded in their attempt, the state
would have been brought down as they wanted to blew up vital and
strategic structures including the more than one kilometer River Benue
Bridge linking the state capital with northern parts of the state.
Adaji stressed that the bombs have been detonated by the anti bomb
squad of the state police command adding that with the feat, a major
calamity have been averted as he said some of the bombs were capable
of destroying a ten storey building.
He noted that the smallest among the bombs can completely destroy
structures within 200 meter radius and on the verge of being
transported to various parts of the state capital before they were
discovered.
He said the discovery of the bombs followed a tip off by an informant
who disclosed the activities of the terrorists following which the
police swoop into action and make the discovery although he said no
arrest has been made in connection to the incident.
The commissioner similarly thanked the media for their assistance to
the security agencies adding that it was through their proactive
reportage that the police started swinging into action leading to the
confiscation of the bombs.
With much assurance by the commissioner of police of protecting live and property and reminding the public that police are always on top of the security in
the state just as he advised them to go on with their normal
activities advising residents not to hesitate in reporting suspicious
people and movement