Open Letter To Mr. President On The Percentage Collection Of Permanent Voters Cards (pvc) Just Released By Inec: Professor Jiga Is Upto Something: Postpone He Election Now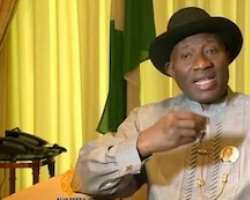 As a human rights activist, (not under the parastatal called National Human Rights Commission (NHRC) which you bankrole, and so, are not real activists) I have to be blunt in telling you the truth: Your regime is very corrupt and it appears you cannot control your cabinet, nor call National Assembly to order. You either fight headlong, supervening corruption in your government or you honourably resign for another to take your place because you cannot be bigger than Nigeria.
Detracting a bit, however, and focusing on the publication of Vanguard Newspapers, 4th January, 2015 front page, we make bold to re-interate the need for you to sit up to discipline the INEC Chairman, Professor Attahiru Jiga. From the results released on the Permanent Voters Cards (PVCs), we immediately extrapolate a hidden agenda by Jiga.
The figures release are signposts of ulterior motive. Recall that Jiga's tenure is elapsing on March 31st, 2015. So, he can damn every consequence, and as a muslim from the caliphate, he wouldn't mind whose ox is gored if he is biased. It is our candid opinion that you put the National Assembly on notice, and proceed to cancel the elections so that Jiga would go by the efflux of time, so that a new INEC Chairman would conduct the elections. We have no iota of faith in Jiga in conducting free and fair elections.
Please candidly look at the percentage of PVCs on the Zones as released by Jiga:
North West overall return 80.18%
Sokoto State 88.9%
Kebbi State 60.3%
Zamfera State 70%
Kano State 87.7%
Jigawa 94%
North East overall return 81.09%
Yobe State 80.4%
Bauchi State 96.97%
Gombe State 77%
Taraba State 70%
Borno State -
Adamawa State -
North Central overall return 69.89%
Kwara State 64%
Kogi State 63.97%
Benue State 72%
Nassarawa State 70.6%
Plateau State 78.9%
Niger State -
South West over all return 43.15%
Oyo State 57.4%
Ogun State 54.4%
Lagos State 49%
Ondo State 49%
Etiti State 65%
South East overall return 59.22%
Anambra State 48.6%
Abia State 73.58%
Imo State 54%
Enugu State 45%
Ebonyi State 75%
South South overall return 66.66%
Cross River State 69.2%
Bayelsa State 79.43%
Akwa Ibom State 60%
Edo State 57.7%
Delta State 67%
Rivers State -
From this similitude of a charade, the North East where you rarely have people gather together is given the highest return of 81%. How do want to reconcile this with reality on ground?
By this arrangement Jiga has demonstrated his hidden agenda to upturn the apple cat in February, 2015. If Goodluck Jonathan ever misstates Jiga to be with him, he is dead wrong. But it is 100% right for Jiga not to be with Goodluck Jonathan or his stooge. That is good. But to release this kind of result valiantly skewed for intent purpose is rigging, posted subcutaneously.
The only option left for equity to hold is for Goodluck Jonathan to CANCEL this charade Jiga released by cancelling the February elections until April, or November or October 2015 as the case may be.
A Publication of HURCON (Human Rights Organizations' Coalition of Nigeria) with Comrade Innocent J.K.O. (Innocent Jonah Kindness O.) as the National Coordinator. 080-3666-2901 or +234-803-6662-901
Disclaimer:

"The views/contents expressed in this article are the sole responsibility of the author(s) and do not necessarily reflect those of The Nigerian Voice. The Nigerian Voice will not be responsible or liable for any inaccurate or incorrect statements contained in this article."
Articles by Kindness Innocent Jonah