Accreditation Team Hails Unilorin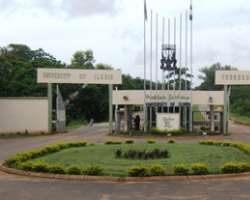 Accreditation team from the National Universities Commission (NUC) has lauded the management of the University of Ilorin for its excellent achievements. This accolade was given recently by the leaders of the accreditation team, Prof M. T. C Egri-Okwaji, and Prof. M. O. Edoga after the accreditation exercise at Unilorin.

They acknowledged that the institution has been living up to expectation as a citadel of learning known for learning and character.
The accreditation process in Nigerian tertiary institutions is a national exercise, through which academic programs run by universities are assessed and rated against the national minimum education standard act of the Federal Republic of Nigeria. These academic programs can only become licensed and legalized after acceptable aggregate level of standard is recorded in accreditation.
Over the first few weeks in December, 2014, University of Ilorin successfully completed its accreditation process for some departments and reaccreditation review of some existing programs in the university. During this period, the accreditation team move through several departments to assess excellence in teaching and learning, and to obtain qualitative information about capability and efficiency of various departments.
The process is aimed at enforcing standards of eligibility as a university, as well as commitment to continuous improvement and achievement of learning goals in the degree program of the university. Some of the faculties that undergo accreditation include faculty of physical science, faculty of agric, faculty of law among others.
Students were interviewed randomly by the team as part of the process. A final year student in department of Chemistry, Miss Grace said she was among those that were questioned and she gave relevant and sincere response to the questions asked by the accreditation team.
It was learned that positive responses were obtained from most students, thus reflecting their level of satisfaction as a student in the better by far university. The reason for this was more related to the fact that Unilorin strives to provide favorable learning environment through availability of conducive lecture halls, as well as equipped laboratories and libraries.
Rofiat, a 300level home economics student said she viewed the accreditation as a means of relating quality standards to faculty qualifications, and seeing to strategic management of resources to ensure that the departments are conducive for learning.
However, a student who claimed anonymity said NUC accreditation team and universities have their ways of operating in the sense that most Universities in Nigeria tend to up their game and provide near-sufficient documentations towards the period of accreditation exercise, and the learning environment return to its previous ugly state afterwards.
The National Universities Commission however warn universities, organizations and or individuals against patronizing or obtaining certificate(s) from any institution or body without the adequate knowledge on accreditation status of such institutions. Apart from the fact that obtaining unaccredited certificate is at the individual's risk; such documents are not valid for national youth service NYSC, may cause disappointments when used for employment purposes and may hinder furthering education.