I Still Believe In Keeping Virginity Till Marriage- Jodie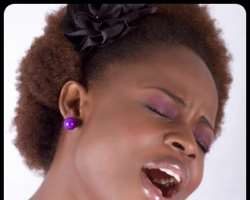 After her beautiful song, 'KuchiKuchi, catapulted her to limelight, Jodie has gradually warmed her way into the hearts of Nigeria music lovers.
The African Woman as she's often referred to had always said she's a virgin and would only lose it on her wedding night.
Adding to that, in a recent interview she talked more about it and why she held her belief tight.
According to her, "the question of sex and virginity is a private one...Now – to the crux, there are many people out there who don't know who they are or where they are going. Forget the media hype and paparazzi: if people would truthfully bare their inner thoughts, no one wants to stay with someone who is "the national cake".
Keep your privates to yourself and your wedded partner. Forget all that "new age" or "modern" talk on sex and virginity. It may look "cool" to be a sexually loose person on television or magazines, but in real life, people actually respect those who have self control. If the whole world says virginity is archaic, would you want your daughter/son to "go with the flow"?
I don't take-in everything I see/read on the media…some people who air certain controversial views don't all air them because they believe in their lip confessions…sometimes it's to control other people who don't want to make use of their minds…some even do so just to have more Facebook or Twitter "likes" – such superficial or shady motives seems to be powering the voice of the crowd. But even if it takes centuries, "truth" will be truth."