OGONI ELECTS PRESIDENT IN NIGERIA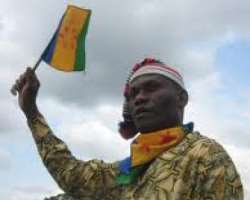 A veteran Journalist and longtime activist, Dr. Goodluck Diigbo is the president-elect.
The presidential election signals the final step towards the enforcement of the United Nations Declaration on the Rights of Indigenous Peoples; meant to protect Ogoni - one of Africa's richest homelands in Nigeria.
In his acceptance speech in Bori – Ogoni Capital, December 27, 2014, Diigbo said the event marked the beginning of the end of internal colonialism of the people of Ogoni.
"The Ogoni self-government will pursue the implementation of the Ogoni Bill of Rights and full enforcement of the United Nations Declaration on the Rights of Indigenous Peoples with a sense of mandate," he asserted.
"Agriculture and Security" he said,"have been chosen as two pillars upon which Ogoni economic advancement and political empowerment would stand."
"It must be clearly evident by now that the Ogoni self-government declaration made on the 2nd of August, 2012 is irreversible,"Diigbo stated.
Under his leadership, Ogoni would continue to build on sacrifices by its past Ogoni heroes, including late Paul Timothy Naakuu Birabi and Ken Saro-Wiwa.
He commended the entire Ogoni people for their long suffering called for understanding, cooperation and participation by all to build a society.
Diigbo accepted his election, which came about through a staggered electoral process starting at the village, then, District to the national level.
Others elected, include, a Deputy President, Hon. (Ms.) Christiana Wiko, two vice presidents, Hon. John Larwisa – South-South Secretary of Amnesty International in Nigeria as the Leader of the Ogoni National Legislative Assembly.
The Deputy President of Council of Ogoni Traditional Rulers Association, His Royal Highness – Mene Samuel Asongho was elected as the President of the Customary Court System.
Also elected were eight provincial governors and their deputies, 33 District Legislators, and about 200 village council heads.
The agenda of the Ogoni Self-Government will be fully elaborated during the forth-coming inauguration.
Pastor Peter Adooh
Secretary General
Ogoni Electoral Commission