Life Is Beautiful, After Divorce Says Ini Edo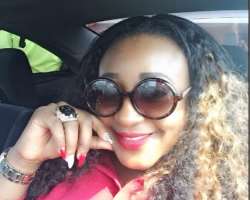 Months have come and gone and the gossip mill dwindling since the news broke that popular Nollywood actress, Ini Edo's marriage to US-based businessman, Phillip Ehiagwina, had hit the rocks.
The news was initially received with mixed feelings. But some people, mostly fans of the actress, could not believe it.
Sources, believed to be very close to the couple, said the breakup was due to allegations of cheating and distrust between Ini and Phillip. Also, they accused the groom's family of aiding the dissolution of the marriage because the actress did not give birth to a child.
Well, all that seem to have gone with the winds as our dear talented actress has since moved on and savouring life to the fullest.
The dark and pretty actress shared a picture of her glowing self on her Instagram page with the caption; Life is beautiful'.
She seem not to be so bothered about people's perception of her life style, for Ini Edo, Life is to be lived for the future not on regrets for the past.