EDO NORTH 2015: ALIMIKHENA ASSURES ON ECOLOGICAL FUND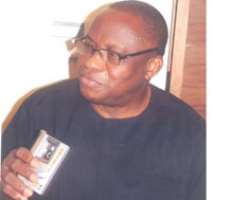 Edo North senatorial hopeful Major Francis Alimikhena has assured the people of Edo north senatorial district that the recent erosion menace and embarrassment in the area will be the last that will occur as he is determined to use his good office to attract federal presence and make ecological fund available to address the urgent issue when elected as the senator to represent Edo North in 2015.
According to the former military officer, there will be lesser pressure on the state fund when the ecological fund is available to put an end to the hardship melted on the people of Edo North due to erosion. Speaking during political consultation in Auchi, Barr. Francis Alimikhena express fear that the erosion is capable of eroding our community someday and the available proactive measure that should be taken now is to vote for him in the forth coming APC primary as the party flag bearer to enable him galvanise the federal government as a matter of urgency and utmost importance to take action. I have the will, I have the action as a lawyer and I have the influence to make it happen.
Barr. Alimikhena who was recently adopted by thirty two councilors from the three Etsako local government, assured the people of grassroots development through the encouragement of Micro, Small and Medium Enterprises. The MSME serve as a source of raw material for big industries and also serve as incubation center on the nursery of technological development. The senatorial hopeful describe the encouragement of Agricultural subsidy, empowerment through financial assistance and SME as a major catalyst for social economy transformation. It is a medium of employment generation, wealth creation, poverty alleviation and food security. I will make every household in Edo North the center of development when am voted as the senator to represent you in the fourh coming APC Primary. I will introduce graduate lntership programme and be accessable by all my people in order to give attention to your needs Alimikhena assured.