Fans Blast Davido's Cousin, B-Red Over Comment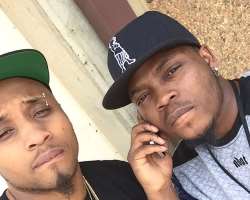 The trend at which Nigerian entertainers are beginning to beef each other is becoming alarming as fans begin to wonder whom to support.
Some months back, it was Wizkid and music producer cum singer, Samklef, then the table switched to female singer, Saeon over non promotion of music. As everything seems to be returning to normal, it was another scenario caused by another music producer, Sarz which was later denied.
All talking about Wizkid, is he that arrogant? Recently, HKN singer, B-Red, who is in South Africa, striked a pose wave making rapper, Olamide and shared the picture with a caption, "Me and @kingbaddo in SA......baddo real nigga.....not like some people lol"
Although the singer never mentioned anybody's name, but it became obvious when fans helped to reveal who he was making reference to and it became war while the singer keeps watching without any response.
dhakingpin: Yea data my boss @badoo fuck all haters fuck wizkid baba e
lifeofshabzy: Wizzy na senior man naw...how du u expect him to roll with low niqqr like ya!?
rafslay: Naso bro tell them @lifeofshabzy
kadogram1234: @dhakingpin stop that shit man..Did he mention his name?i don't know why we fans are like this.

lifeofshabzy [email protected] na fool naw...The niqqr jex dey upgrade!
muller_kaka_funds: @lifeofshabzy Gbayi wasere i sight you [email protected] you be real mumu idiot fool
muller_kaka_funds: @dhakingpin you be real maye fool

Interestingly, Olamide who suddenly decided to go through the comment box of B-Red, was speechless at the caption, could not say anything than to call the singer like a father calling his son.
kingbaddo: Red