Jonathan directs ministries to end unnecessary importation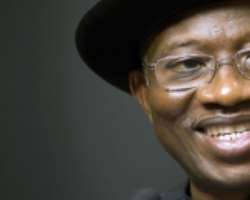 President Goodluck Jonathan has directed all Ministries, Departments and Agencies of government in Nigeria to work with the Central Bank and other agencies towards increasing local production of goods and services in order to substitute unnecessary importation of goods.
The President gave the directive on Tuesday at the first Presidential Dinner for top 100 businesses in Nigeria held at the Banquet Hall of the Presidential Villa in Abuja.
He said the falling prices of crude oil at the international market was strong indication that the country could not afford to rely on one commodity as a foreign exchange owner.
His comments are aimed at addressing the importation burden on Nigeria. Most products in Nigeria are imported and the Nigerian President said the government was committed to ensuring that the trend was reversed.
The dinner attracted the biggest and the best business owners in Nigeria, as they interacted with each other over a cocktail.
The arrival of the President signalled the beginning of the event that was designed to encourage the business that have thrived amidst daunting challenges.
They joined the President to observe a minute silence for the repose of the souls that died following terror attacks.
Addressing the gathering, the President described them as shining stars and the 'central component of the Nigerian economy' before delving into the directives to the ministries and the apex bank, following the declining oil prices
The Minister of Industry, Trade and Investment, Olusegun Aganga, had earlier told the gathering that the top 100 businesses initiative was designed to celebrate major contributors to the development of the economy.
'The companies were selected using simple criteria including turnover, which was extracted from their audited financial statements,' he explained.
Some companies in the top 10 were Exxonmobil, Shell, Chevron, Nigeria LNG, Total, MTN, Dangote, Oando and Eni Agip Oil.
The government also acknowledged the contributions of millions of Micro, Small, and Medium Enterprises, which provide the supply chains, operational logistics and distribution networks to larger enterprises promising to also host them the same way in the future.