How Safe Are Our Schools? – Leadership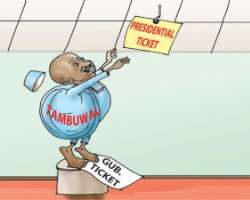 The lack of security for life and property in Nigeria has undoubtedly become the most vexing issue in the polity. The Nigerian people and the rest of the world watch the endless massacre going on in anger and outrage, as each murderous attack seems to take the level of violence a notch higher, leaving Nigerians in pain and despair. Last week, the nation was greeted with the gruesome report of the killing of 35 secondary school students on their assembly ground at a school in Potiskum, Yobe State. Our youngsters are being taken out in their prime at locations where they should be able to feel safe. The next generation is gradually being decimated, yet no one seems to 'give a damn'; the focus of our leaders is on the next elections.
We do not advocate that children should be kept at home because the schools are not safe. Education is a fundamental right of every child and the least a nation can bequeath to them. It is bad enough that the standard of education and condition of public schools in this country have been left to fall to deplorable levels. Those whose responsibility it is to secure school premises around the country and ensure that students and the infrastructure are adequately protected from bloodthirsty insurgents and other present-day dangers, must wake up to their responsibilities. Surely parents and concerned citizens have shed enough tears to rouse our leaders from their slumber. The fact that someone could infiltrate the students' ranks, even if disguised as one of them, speaks volumes. The suicide bomber who attacked the school in Potiskum must have been young enough to pass as a student and that calls for great concern. That youths are being used to kill their contemporaries leaves a bad taste in the mouth.
From September 2013 when 40 male students of the College of Agriculture, Gujba in Yobe State were murdered by insurgents, targeting schools and students has been on the increase. In February 2014, 29 students of Federal Government College, Buni Yadi lost their lives in a most horrific manner when insurgents attacked the school. The incident was shortly followed by the kidnapping of over 200 girls from a secondary school in Chibok.
We really should not be asking how safe our schools are. Instead, we demand that schools all over the nation be made safe for our children. Security is a priority for any serious government. In Nigeria, every leader swears by the Bible or Qur'an to secure life and property and defend the country's territorial integrity. Something, therefore, is terribly wrong and our leaders need to admit to this reality quickly, so that the urgently needed action to remedy the situation might be taken now.