…As sect overruns Hong town in Adamawa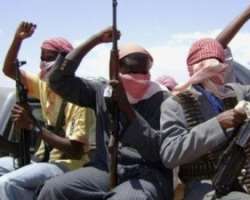 In a reprisal attack on Saturday, Boko Haram insurgents have seized  Hong town, the administrative headquarters of Hong local government area of Adamawa State.
This follows the recent hit on the insurgents by the combined efforts of local hunters and civilian JTF in Mubi resulting in the killing of several insurgents while others were chased them out of Mubi and Mahia.
An earlier report published on This Day last Wednesday indicated that the insurgents might return for a reprisal attack on the people following the attack on them.
A security source disclosed that the insurgents launched a reprisal attack on Hong town in the early hours of Saturday after the thought that the insurgents had fled the area for the fear of the local hunters.
He said the insurgents burnt down a police station ‎and killed an undisclosed number of  persons.
Also reacting former  minister of state, Health, Aliyu Idi Hong, who hails from the area, confirmed the attack to journalists in Yola.
He added that a few days ago,‎ the insurgents had attacked two villages in Hong Local Government area, killing at least five persons.
A resident of the area revealed that the militants attacked the residence of a retired general near Hong.
At about 2pm of Saturday the insurgents were in control of Hong town. However, residents said the local hunters have been alerted to come to the rescue of the town.
Fleeing residents of Hong were optimistic that before sunset, the hunters will deliver the area from the clutches of the Boko Haram insurgents.
Military authorities in Yola could not be reached for comment on the attack. Thisday