IABC Explores Globalisation And Digital Communication At 3rd CEO Breakfast Forum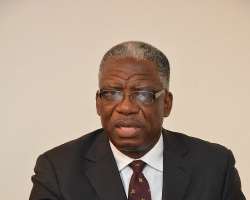 The International Association of Business Communicators has announced its 3rd CEO Breakfast Forum with a focus on globalisation and best practices in digital communication.
The November 13 CEO Breakfast Forum, according to a statement by IABC Nigeria chapter Director of Communication Samuel Iboroma, would feature two outstanding speakers from Nigeria and South Africa.
While Mr Richard Ikiebe, a media scholar of repute,would speak on "Globalisation and the imperative of ISO certification for communicators", Dr Sean McCoy, a brand expert from South Africa, would tackle the topic, "Stand-out communication in the age of digital: an integrated approach."
IABC Nigeria President Chido Nwakanma said, "As the year draws to an end, IABC Nigeria has brought together two leading thinkers to stimulate thought and set agenda for Marcomms in Nigeria and Africa in the coming year 2015. It is a careful blend of theory and praxis tackling cogent issues in the communication disciplines."
Ikiebe is a Senior Fellow and Director of the Centre for Leadership in Journalism at the School of Media & Communication, Pan Atlantic University, Lagos. He is also the African representative member of the Global Communication Certification Council set up by the International Association of Business Communicators to prepare a syllabus and implement a certification scheme to ISO standard for the marketing communication profession. Ikiebe teaches graduate and executive courses in Journalism, Journalism History and Media Leadership. He also leads a media study tour for Nigerian media executives to top media institutions in Britain and other European countries.
He has served as Special Adviser on Public Communication to formerVice President Augustus Aikohmu, Senior Policy Advisor to the former Minister of Information & Culture Prince Tony Momoh as well as Chief Executive of the Nigerian-American Chamber of Commerce. He has rich and varied experience in the media, broadcast as well as print. He has served on the boards of several companies including as Vice Chairman of Cornerstone Insurance Company Plc. He is currently working on an ambitious three-volume multimedia book on 75 years of Nigerian journalism.
Dr Sean McCoy brings to bear his 30 years industry experience centred on business and brand strategy, key account management and business development. He was Managing Director of Enterprise IG Africa Middle East and founding member in 2003 of HKLM where he is currently Group Chief Executive. He has worked on brand development and management with key accounts in South Africa, Africa/Indian Ocean Islands and United States. Sean McCoy has worked on key brands such as Cell C, Dimension Data, Eskom University of Pretoria (South Africa), Glo, Conoil, ETB, FCMB, (Nigeria) Stanbic Bank, MoneyGram (Regional), Coca Cola (USA), Royal Mirage Dubai Festival City, Southern Sun (Middle East), and Investec.
The CEO Breakfast Forum is a thought-leadership and engagement platform of IABC Nigeria. The Breakfast Forum brings together communication professionals and business leaders to share thoughts and interact for enhanced leadership communication and stakeholder engagement. ExxonMobil Corporation is sponsoring of the session as part of its capacity building efforts to enhance professionalism in business, media and communication management in Nigeria.
Previous IABC CEO Breakfast Sessions have featured Airtel Nigeria CEO Mr Segun Ogunsanya on Leadership Communication as an Imperative for Building a Strong Corporate Cultureand the then Director General of Manufacturers Association of Nigeria Mr. Rasheed Adegbenro on "Getting Heard: Challenges of business advocacy in Nigeria".
About IABC:
Founded in 1970, IABC is a professional network of about 14,000 business communication professionals in over 80 countries. The association's headquarters is in California. It helps members "identify, share and apply the world's most effective communication practices" through thought leadership, publications, networking, conferences and cutting-edge research.
Members hold positions in corporate communications; public and media relations; public affairs; investor relations; advertising; community relations; editing; photography and video production; graphic design; marketing communications; human resource management; training; writing; and teaching, among others.
For more information, visit: www.iabc.com as well as www.iabcnigeria..com