Malala, Pakistani teen, wins Nobel Peace Prize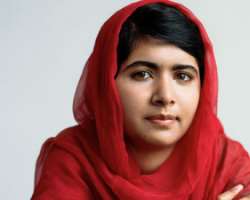 A 17 years old Pakistani teenager who once survived an assassination attempt by the Taliban militant group, Malala Yousafzai, was on Friday awarded the prestigious Nobel Peace Prize.
The award was awarded jointly to her and an Indian advocate of education rights for children, Kailash Satyarthi, 'for their struggle against the suppression of children and young people and for the right of all children to education.'
The Pakistani teenager came to Nigeria in July 2014 to meet with President Goodluck Jonathan over the release of the over 200 schoolgirls abducted by terrorists in Chibok, Borno State on April 14, 2014.
In its announcement on the award by the Norwegian Nobel Committee in Oslo, Norway, Yousafzai, now 17, became the first teenager to be awarded the prize. Satyarthi is 60 years old.
'The Nobel Committee regards it as an important point for a Hindu and a Muslim - an Indian and a Pakistani - to join in a common struggle for education and against extremism,' a statement by the committee read.
It added that Satyarthi, 60, had maintained the tradition of Mahatma Gandhi and headed various forms of peaceful protests, 'focusing on the grave exploitation of children for financial gain.'
Malala was living in Pakistan's Swat Valley when she was shot in the head by militants in October 2012 as punishment for her high profile campaign to encourage girls to go to school. Agency report