Al Jazeera's Fault Lines Wins Emmy Award For Outstanding Investigative Journalism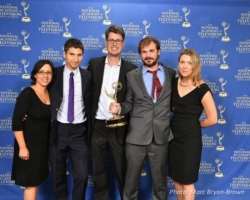 Fault Lines: Haiti in a Time of Cholera, an Al Jazeera production, has been honoured with an Emmy Award for Outstanding Investigative Journalism in a News Magazine.
Haiti in a Time of Cholera was produced by Sebastian Walker, Singeli Agnew, Jeremy Dupin, Carrie Lozano, and Mathieu Skene, and edited by Warwick Meade. The film begins in Haiti, where thousands died after a cholera outbreak. The focus of the film then turns to the United Nations in New York, where Walker pursues high-level officials, including Secretary-General Ban Ki-moon, to question them over their organisation's role.
Haiti in a Time of Cholera was nominated alongside Made in Bangladesh, another Fault Lines production produced by Laila Al-Arian. In addition to Al-Arian, the production team behind the film was made up of Anjali Kamat, Tim Grucza, Andy Bowley, Warwick Meade, Paul Sapin, Joel Van Haren, Omar Mullick, Nafeesa Syeed, and Mathieu Skene.
"Al Jazeera tells stories of people that are not usually heard; Haiti in a Time of Cholera is an example of such a story," said Sebastian Walker, who was both a producer and correspondent on the film. "The Emmy award is a testament for the team who worked on the programme and also for everyone that we met during the course of filming Haiti in a Time of Cholera. Again the award is an opportunity to draw attention to the scale of the cholera crisis in Haiti, and to hold those in power to account who could have done more to save the lives of thousands of people. We would also like to dedicate this award to our detained colleagues in Egypt - Baher Mohamed, Mohammed Fahmy and Peter Greste - and all journalists unjustly imprisoned around the world."
In response to the Emmy win, Giles Trendle, Al Jazeera English Director of Programmes, said, "Consistently the Fault Lines team does what Al Jazeera does best: they provide great investigative journalism which holds those in power to account on behalf of voices which are not often heard. Fault Lines is a mixture of hard-hitting journalism, honest and factual reporting and telling the human story, something our viewers are accustomed to."
In April 2014, Haiti in a Time of Cholera and Made in Bangladesh were both honoured with Peabody Awards.
For more information, visit http://www.aljazeera.com/programmes/faultlines/2013/08/2013828102630903134.html.
Watch and embed Haiti In a Time of Cholera at: