Attacks Against Guber Aspirants In Rivers State; Condemnable And Ominous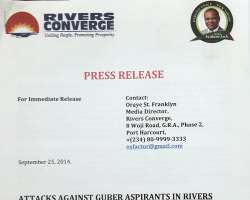 Our attention has been drawn to reports of attacks by gun men on some Gubernatorial aspirants of the Peoples Democratic Party (PDP) in Rivers State, while organising a Press Conference at Delta Hotel, Port Harcourt on Tuesday 23, September, 2014.
The report at page 11 of "The Nation" newspaper of Wedneday September 24, 2014 alleged that the attackers are members of the Grassroot Development Initiative (GDI), one of which was a certain Wokoma, who was disarmed and handed over to the police.
We condemn these attacks in totality and call for a full investigation of the incident. This is unacceptable. It is the greatest disservice to our people and State when interested persons in the electoral circuit incite or threaten violence to another party or candidate. While we appeal to the political actors in Rivers State to show restraint and eschew political violence, wethink that the managers of political parties must acknowledge that all aspirants and candidates should be treated equally as they compete in elections. This includes recognition of the fact that every person, whether as aspirant or candidate has the right to freedom of expression, freedom of association and access to the electorate.
The shooting incident is the early warning-sign the State authorities and Law enforcement agencies need in order to put machinery in place to ensure that that parties, candidates and supporters enjoy equal security, and that State authorities take the necessary steps to prevent electoral violence. Every hand must be on deck to ensure that the numerous security issues associated with militancy and cultism in Rivers State are addressed, checkmated and nipped in the bud early enough. This is the time to stand up to political party stalwarts and appointees whose activities give impetus to thuggery and electoral violence.
Though history has shown that electioneering periods in Rivers State have largely been characterised by violence in the past, we believe it should not be the norm. The greatest and most lethal challenge to free and fair elections in Nigeria is the dearth of democratic citizenship. The future of our dear Rivers State depends on what its residents and people respond to these issues, and how we collectively deal with the current challenges.
After nearly three decades of living under military dictatorship and the destruction of civil society, we are largely unprepared for life in a democratic society. This and other attempts to silence dissent in the politics of Rivers State is most unfortunate and regrettable as such acts have no place in a democracy.
We call on the peace loving people of Rivers State in general and the youth in particular, to remain vigilant and resist the lure by power-hungry politicians to use them as canon fodders in their bid to clinch power at all cost. Weappeal that political players maintain the highest level of civility in politics and the campaigns. The resort to violence can never and has never led to peace anywhere in the world. This is the time to unite and promote our collective well-being. We have had enough of violence in Rivers State.
Hon. Nimi Walson-Jack
PDP Governorship Aspirant, Rivers State.