Fan Seeks Timaya's Consent to Use his Name as A Product Brand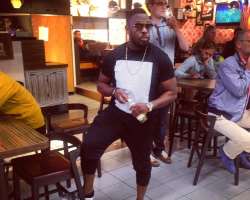 After storming Italy with his Timaya songs as he best describes his kind of song, Nigeria's wave making singer, Enetimi Alfred Odom aka Timaya has decided to do some shopping in order to increase his hanger of designs.
Timaya who recently released his 'Sanko' video, disclosed that he truly loves fashion and has no choice but to do some shopping.
While displaying his foot wear also on his social page, a fan wrote to him seeking his consent to wear his brand with the name 'Timani.'
The singer who has been busy in the studio trying to compile his album, also disclosed that the album is ready and called it 'EPIPHANY' which is due to be out on the 25th of September, 2014.