Oh, Those Legs! See Emma Nyra's LBD-Inspired New Photos ... "I Am Just A Girl Having Fun," She Says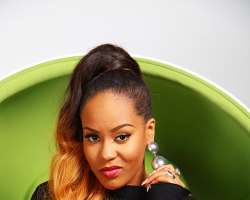 After just weeks of Emma Nyra releasing of her video 'Elele' featuring Davido, the Triple MG First Lady Emma Nyra, stuns in these photos from her new photo shoot.
"I am just a girl having fun, singing from her heart, sharing with her fans, looking at the world with a smile, said Nyra."And I really love these photos - they're fantastic!"
For this shoot, Emma is trendy and chic showing some serious legs rocking a Little Black Dress paired with grey lace up sandals, while brings sexy on with her signature ponytail.
"I am excited by these photos because I think they find a way or reflecting who I really am inside and how I see the world: simple, happy, ready to take on the world," she says. "The rest of what you see is just showbiz."
Check out the photos!
CREDITS:
Photography: The Mega Boi
Styled by: Chyna bee
Hair and makeup: Chyna bee
Follow Emma Nyra on Instagram, Twitter, Facebook and everywhere else via @EmmaNyra.
Subscribe to the Emma Nyra Official Vevo Channel.
Follow Triple MG on Twitter: @triplemg1
About Red Communication
Red Communication is a PR & Communication firm under the parent company, RED. An innovative media group focused on Africa, RED's vision is to excite and empower an evolving generation through the media's limitless possibilities. Built across tools and platforms, its Communication Division holds Red Communication, Red Marketing and Small & Medium, and YouthConnect; and its Content Division holds the Y! brands, including Y! TV, Y! Magazine, YNaija.com, Teen Y!, Y! 2015, the Y! Tech 100 and the Y! Annual Black Ball/Y! 100 Most Influential List. It also anchors a development firm, The Future Project Africa, which co-presents Africa's leading youth platform, The Future Awards Africa, and other projects including the Nigeria Symposium for Young & Emerging Leaders and The Future Enterprise Support Scheme.