Igbere, Hometown of Former Governor of Abia State in Serious Mourning Mood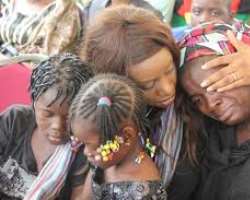 The entire Igbere the home town of former Abia governor Orji uzor kalu is in a serious mourning mood, occasioned by the mysterious killing of their illustrious son Dimgba Igwe over the weekend. Our reporter who is in community monitoring the situation said that the atmosphere is charged and tension has enveloped the place as the kinsmen of the late SUN pioneer editor are worried over the circumstances surrounding Dimgbas death.
A clergyman with an Anglican communion in the area Rev Charles ukeh who spoke on the issue said that their son Uzor kalu has a case to answer as far as this issue is concerned.
Some weeks ago we buried five people from this community killed by his convoy, he didn't come now we are hearing that he has a hand in Igwes death the clergyman said. How can he threaten to deal with Dimgba simply because the columnist was defending the workers being owed salaries for 8 months he retorted.
A traditional ruler from the area who pleaded anonymity said that kalu has become associated with shedding blood , sometime ago one girl died in his house in US he said. The traditional ruler said that kalu must be made to swear before the burial of Dimgba for him to be exonerated. Many who spoke hinted that Dimgba who was sacked by kalu earlier, made a mistake by going back to work in Sun again
When our reporter visited the family house of the late editor , it was under lock and key as nobody was around to speak with him
MOURNER
MOURNERS
MOURNERSS