GOV OBI COMMENDS CHIAMANDA ADICHIE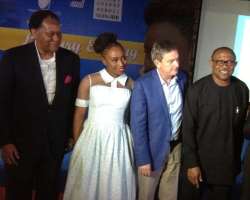 The Former Governor of Anambra State, Mr. Peter Obi has commended the literary Icon, Chimamada Adichie for organising Writers' Workshop to encourage what he called the flowering of the literary culture in Nigeria. Obi made this commendation on Friday when he attended the closing ceremony of the workshop where awards were given to those that distinguished themselves.
Further, Obi called on Nigerians who distinguished themselves in their various fields to emulate Chimamanda by seeking ways to give back to the society. " Chimamanda is doing today is trying to encourage young writers through practical and real mentorship. I thank all the companies supporting her because this is investing in what will add value to the society thus, amounting to fulfillment of social responsibility,"
Obi who recalled the support his Government offered to writers, including partnering with renowned writers such as Prof. Chukwuemeka Ike to encourage budding writers said that all hands must be on deck to groom many Chimamanda's that will hopefully take the baton from the Achebes and Soyinkas
Speaking at the event, Chimamanda said that the selection for the workshop was based purely on merit and decried those reading ethic influence, insisting that ethnicity must not be associated with all events and that it was high time Nigerian looked more at merit than any other consdierstion. He said she was an Igbo, and that she was even contemplating organizing separate workshop in the East for his people.
Caption for the pic
The former Governor of Anambra State, Mr. Peter Obi( 1st right), with the Mzd of Nigerian Breweries, Nicolaus vervelde(2nd right), and the former Minister of External Affairs, Henry zone in Ajumogobia(1st left), at the concluding part of the Workshop for writers organized by Chimamanda Adichie (2nd left) at the Oriental Hotel, Lagos, on Friday"