Mahansa returns with Da Statement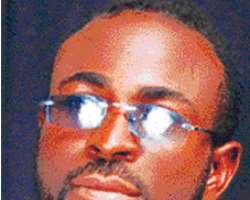 Although, Chukwudi Ugwu better known as Mahansa studied Estate Management at the Enugu State University of Technology; but his body and soul have always been with music. A passion he has spent two decades practicing within and outside our shores.
For Ugwu, Mahansa means a swan bird when translated; and music to him should be rendered without inhibitions, just like the birds in the air caress and criss cross the open skies without hindrances.
With two existing albums to his credit, his latest effort entitled: Da Statement, is currently enjoying massive rotation on the airwaves. And he hopes to embark on a global tour with the very deep work with 15 tracks, soon.
According to the Ngwo, Enugu State born artiste, "I have been in and out of music during my days in the university because of my academics and I have performed at Shell Club, Rotary Club, among other places mainly because of the nature of my music.
I created a kind of music genre, which I called Afrociori. It's a fusion of African, Occidental and Oriental cultural musical elements. I can travel to Brazil and add their musical pattern to my songs. Song is universal. My kind of music is not the popular kind. It is deep. The messages are mainly about serious issues like corruption, epidemics, hunger, among others. My previous two albums, "Entrapment" and "This Pain Must Go", were products I did to support Rotary Club International in its polio eradication programme. They are there to attest to the kind of messages in my songs."
The widely traveled crooner who has performed in many parts of the world like: Jo'burg, India and several other places, however, lamented that his major challenge is funding and the right platform for his kind of music to evolve.
Commenting on music in Nigeria, Mahansa said, "It is time for people to open their ears to new things. They should listen to something more reflective and stand on serious issues. We need to know where we are in the scheme of things.
Everybody operates at his or her own level. Some musicians here are making money, getting commercial breakthroughs but they don't have depth. We do music that would last overtime, music that would outlive us. These are the things I stand for as a very deep musician."
By Chinomnso Okorie
Story by nollywoodgists.com