Okonjo-Iweala decries slow pace of work at Ogwashi-Uku dam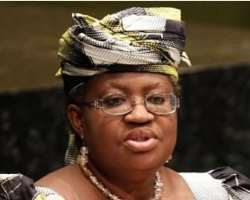 The Coordinating Minister of the Economy and Minister of Finance, Dr Ngozi Okonjo-Iweala, has decried the slow pace of work at the Ogwashi-Uku earth dam in Delta State, which is meant to provide potable water to the community as well as generate electricity.
The minister, who was on a private visit to the community at the weekend, said the contractors handling the project needed to speed up.
Speaking after inspecting the project, Dr Okonjo-Iweala said the dam was important to the community as the people had suffered acute shortage of water supply for decades.
The water level of Ogwashi-Uku is about 800 feet deep and all efforts by various federal and state agencies to provide boreholes had proved abortive for years.
The minister also said the Asaba Power Step-down, which started about two years ago, would soon be commissioned.
The step-down from the national grid has suffered questionable setbacks in recent times as the commissioning date shifted severally since December 2013 and as at the time of the minister's visit, there is no date in view when the job will be completed and commissioned.
A source at the project site confided in our correspondent that the Transmission Company of Nigeria (TCN) is yet to finish the stringing of the 330KVA line from Obosi in Anambra State to the Asaba project site, as  the contractor handling the project, had completed the civil and electrical section of the work.