Impeachment: Nyako, deputy shun panel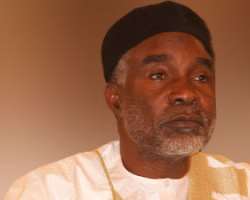 Adamawa State governor, Alhaji Murtala Nyako and his deputy, Barrister Bala James Ngilari, yesterday shunned the panel set up to exam the alleged gross misconduct leveled against them by the state House of Assembly.
However, the chairman of the panel said in view of the failure of the governor and his deputy to attend or send representation, he would forward notices of hearing to them.
Even as 28 evidences marked as exhibits, which included a video clip were yesterday tendered before the seven-man panel constituted by the acting Chief judge of the state, Justice Ambrose Mammadi against the two Adamawa henchmen.
The Director of Press and Public Affairs to Governor Murtala Nyako Mallam, Ahmad Sajoh, condemned the setting of the panel and described it as  product of illegality as all the processes followed before setting up the panel ran contrary to the provisions of the law.
'The service of the notice of gross misconduct against Governor Nyako through the media was against a subsisting ruling of a High court, which had passed similar ruling preventing a substituted service.
'The constitution of the panel was also against the Yola High court ruling, which prevented the constitution of the seven-man panel,' he said.
In view of that, he said the governor has deemed it fit not to honour the invitation of the panel as doing so amounted to according to the panel some semblance of recognition, which the governor will never d