World Cup begins today in Brasil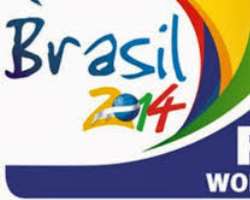 World Cup begins today in Brasil
The day has finally come. It is official: World Cup 2014 kicks off Thursday (today0 in Brasil.
For a whole month (june 12 - July 13), the attention of the whole world will shift to Brasil to watch and enjoy the world's most beautiful game.
Crippling traffic might snarl the roadways, protestors will likely make some noise, stadiums will be missing finishing touches and teams will sweat more than usual in the Amazonian rainforest stadium of Manaus.
But for better or worse, the day has come for Brazil the country and its beloved yellow-shirted soccer team to get the 2014 World Cup under way. It will attempt to shift attention from the hotly debated $11.5 billion price tag and questionable infrastructure to O Jogo Bonito (The Beautiful Game) and the carnival atmosphere that surrounds those games.
Neymar's nifty moves, a stylish Brazilian goal or two, and a victory over Croatia in Thursday's opening match would work wonders to start stamping out the negativity that has surrounded the lead-up to this event.
Nobody knows how to throw a party like the Brazilians, and they are desperate to get back to what they love best, which is futebol, the rhythms of samba and bossa nova, grilled meats and caipirinha cocktails.
'To all Brazilians, I want to say that the time has arrived,' Brazilian coach Luis Felipe Scolari said. 'This is our World Cup.'
Scolari enters the tournament with a heavy heart after his 48-year-old nephew, Tarcisio Joao Schneider, died in a car crash Tuesday.
'We have gone through difficult times together, but we know that life goes [on] and each one has a path to follow,' Scolari said. 'I find my strength from working with these players. Even when we are feeling sad, we can forget the sadness and see the beauty around us.'
Brazilian president Dilma Rousseff delivered a similar message to the Brazilian team in a recorded pretournament speech: 'Beneath those green and canary jerseys, you embody a powerful legacy of the Brazilian people. The national team represents nationality,' she said. 'It's above governments, parties and interests of any group.'
Opening day
World Cup organizers were bracing themselves for what could be a rocky start to the long-awaited tournament.
About 20 percent of workers at Rio de Janeiro's two airports were expected to begin a 24-hour work stoppage at midnight Wednesday, a move that could snarl World Cup fans' travel plans. Rio's Galeao international airport is expected to be a travel crossroads during the Cup, and domestic Santos Dumont Airport offers many flights to Sao Paulo, where Thursday's opener is being played.
Also, subway workers in Sao Paulo, a city of 12 million people, threatened Wednesday to walk out on Thursday unless 42 union members fired during a strike are rehired. Tens of thousands of fans were expected to use the subway to get to and from the stadium.
'We do not accept the dismissals,' said Rogerio Malaquias, a union spokesman. 'Either all 42 are rehired, or we will strike on Thursday.'
On the field, Brazilian players will try to get past a Croatian team that finished third in 1998 but did not make the 2010 tournament and barely qualified for this one. No host nation has lost its opening match at a World Cup, and Brazil is a heavy favorite because it is a five-time winner and has won 15 of its past 16 matches, including a convincing 3-0 win over defending World Cup champion Spain in last year's Confederations Cup final.
Brazil is eager to do better than it did four years ago, when it lost to the Netherlands in the quarterfinals. Thiago Silva and David Luiz will anchor the defense, and the attack will be led by Hulk, Fred and Neymar, the 22-year-old Barcelona forward.
The Brazil team is also determined to win the Cup on home soil, something the 1950 team did not do, losing to Uruguay in the final. It is a sore subject 64 years later, and one that every Brazilian player since has had to hear about.
'The maximum sentence in Brazil is 30 years,' goalkeeper Moacir Barbosa told reporters in 1994. 'I've spent 43 years paying for a crime I didn't commit.'
What lies ahead
Croatia will attempt to spoil the Brazilian party. Watch for captain Darijo Srna, who will be called upon to defend Neymar, and midfielders Luka Modric and Ivan Rakitic.
U.S. coach Jurgen Klinsmann knows what it's like to coach the home team in a World Cup opener. He was the German coach in 2006, when the tournament was held in Germany.
'Brazil is so different because it's the five-time world champion,' Klinsmann said. 'They are born having futbol in their blood, and you will feel that now. Obviously, they expect the title. Simple as that. You know, if you coach Germany, they expect a title. There is not a discussion of how far you can go or setting goals. It's very simple.
'They have not only the amazing amount of talent who've played on the big stages in the world, they have also a very, very experienced coach. The fans and the people here will embrace it now, for the next four weeks, and make it a big party throughout the country. Obviously, it's easier to party if your team wins and scores many goals.'
The Rainbow with Miami Herald