Tom Woewiyu: Another NPFL Pillar Crumbles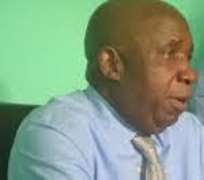 New Castle-Grand Bassa County senatorial hopeful, Jucontee Thomas Woewiyu desire of returning to the Liberian Senate for now remains a shattered dream. At the moment, no one knows whether Mr. Woewiyu will participate in the October 2014 midterm senatorial election, or not.
The former NPFL czar, who once represented Grand Bassa in the Liberian Senate during the Charles Taylor administration, in March of this year declared his intention to contest the election. Then, he declared 'I want to be a Senator to perfect and complete the decentralization of Grand Bassa County by ensuring that all political sub-divisions of the County are covered by law and justice.'
But recent legal matters unfolding in his life seem to suggest that his plan for making a come-back in government as a legislator is doomed. The likelihood of Mr. Woewiyu seeing day light again for nowseems very slime. He risks lengthy, or life time imprisonment in a US penitentiary if convicted of charges levied against him by federal authority; 110 years, a $ 4 million fine, not more than three years supervised release and a $ 1, 600 special assessment fee.
Since May 12, 2014, when special agents of the US Homeland Security Investigations arrested him at the Newark Liberty International Airport, Mr. Woewiyu remains incarcerated in the City of Philadelphia, Pennsylvania on immigration and felony charges.He is serving an indefinite jail term and he is being held on 16 counts; fraudulently attempting to obtain US citizenship-2 counts, fraud in immigration documents-4 counts, false statements in relation to naturalization-3 counts, and perjury-7 counts.
According to the indictment, Mr. Woewiyu is accused of lying about his past with former President Charles G. Taylor, especiallyhis role in the disbanded National Patriotic Front of Liberia(NPFL).
On May 16, 2014, he appeared in court for a detention hearing and arraignment. At the hearing, aUS magistrate ordered the former NPFL Defense Spokesman, 68, canned without bond while he awaits trial.
Then, US prosecutors contended, Mr. Woewiyu, the Liberian politician and one time ally of the disgraced former President Charles Taylor does not deserve a bill because he was a 'flight risk'. 'Jucontee Thomas Woewiyu has every reason to flee this country,' they insisted.
US Citizenship Application
In 2006, he applied for US citizenship. According to federal authority, the former NPFL guru in his application and subsequent interviews conducted with immigration officers under oath, tried to distance himself from the notorious NPFL that he helped procreate.
He's alleged to have denied his involvement with the Front. In the application, Mr. Woewiyu, the man, who many in Grand Bassa County consider an opinion leader, is reported to have also, disowned the Association of Constitutional Democracy inLiberia (ACDL), a group which he and several other Liberians, who resided in the US during the 1980's and 90's reportedly formed for the violent overthrow of the late President Samuel K. Doe government.
The indictment maintained defendant Woewiyu formed the ACDL; he and other prominent Liberians including the former NPFL leader and President Charles G. Ghankay Taylor funded the NPFL and the Liberian civil uprising.Because of the reported inconsistencies noted in the citizenship application about his role in the NPFL, Liberian civil war, and his reported failure to disclose the 1970 New York State conviction for falsification of business records, the US immigration authority denied his application in 2009.At the time, the US immigration authority noted defendant Woewiyu could not be granted US citizenship because he was reportedly not a person of 'Good moral character.'However, his lawyer, Ray Basso, says Mr.Woewiyu did not take part in any atrocities, according to media reports.
NPFL Link
Before 1994, the man, Jucontee Thomas Woewiyu was a towering figure in the disbanded NPFL. Mr. Woewiyu also, known as Jucontee Thomas Smith was a powerful man; he was the NPFL ragtag rebel army Defense Spokesman.
In the tiny West African country, Liberia and the world over, the name Jucontee Thomas Woewiyu was iconic;it resonated with many including the international media for terror and atrocities. It was synonymous to the initials, NPFL, the rebel group that became notorious for forcing girls into sex slavery and the conscription of boys tobecome child soldiers.
They reportedlypersecuted the Krahns, Mandingoes, and othersin Liberia on flimsy accounts during their so-called people's revolution which commenced on December 24, 1989.Unconfirmed media reports maintain that the civil war claimed more than 250 thousand human lives and millions of dollars worth of properties.
As Defense Spokesman, Mr. Woewiyu, was a prominent character in the execution of the NPFL's uprising against the late President Samuel Doe's government. He was a confidante of the former President Taylor. He was one of Mr. Taylor's trusted aides.He and many of Mr. Taylor's former foot soldiers, who shuttled the world championing the cause of the NPFL; the maiming and slaughtering of Liberians. They were Mr. Taylor's war heroes.
Tom, as he is known by many of his peers, was brash and ferocious in advancing the former NPFL's war agenda at international peace conferences held on Liberia. During the heydays of the Front's revolution, Mr. Woewiyu and his war cronies lived 'large' while majority of Liberians perished in villages, towns, cities, and refugee camps. They lived inup-scale homes, accumulated material wealth overnight, had regular meals, drove flashy cars, and sent their wives and children abroad for education, medical treatment, and annual vacations while scores of Liberians at home went scavenging through debris and looted warehouses at the Free Port of Monrovia for rice grains, Liberia's staple just to survive the NPFL's onslaught on the country.
NPFL-CRC
In 1994, Mr. Woewiyu severed tie with the NPFL and along with two other NPFL dissident leaders reportedly gave birth to the splinter NPFL Central Revolutionary Council (NPFL-CRC). The NPFL-CRC reported recruited several NPFL fighters to go against Mr. Taylor and his faction. In 1997, when Mr. Taylor was elected President, Mr. Woewiyu mended fences with his former boss and became Mr. Taylor's Minister of Labor from 1997 to 1999.
Lying About Past
In March of this year, when Mr. Woewiyu officially threw his hat into the Mid-term Senatorial race for Grand Bassa County, he openly boasted about his past with the NPFL and the 'heroic' role he played in the Liberian civil war. Then, he reportedly declared 'I owe no apology to anyone for my involvement in the war, which was initially an uprising against a brutal dictator.'
But according to federal authority, in the year 2006, when the former NPFL Defense Spokesman submitted a naturalization application tothe US Citizenship and Information Service (USCIS) for American citizenship, he reportedly shied away from the group and Mr. Taylor. He declined to take ownership of his activities in the NPFL.
Second 'Big Fish'
Jucontee is the second most powerful NPFL generals, or 'big fish' to have fallen in the dragnet of the international community. The first was the disgraced former Liberian President Charles Taylor, who is now serving a 50 year jail time in Britain for crimes against humanity.
In 2012, judges at the International Court in The Hague convicted Mr. Taylor for aiding and abetting rebels of the Revolutionary United Front (RUF) of Sierra Leone in the commission of human rights violations. The former NPFL warlord was accused of giving monetary and material support to the RUF in the destabilization of Sierra Leone, a neighboring country of Liberia.
Life in US
Since January 13, 1972, defendant Woewiyu has had legal Permanent Resident status in the U S, while intermittently serving in the NPFL and the former President Taylor government. Prior to his arrest and subsequent detention, he resided in Collingdale, Pennsylvania, and invested in real estate. According to his immigration lawyer, Raymond Basso, he has a son serving in the US military.
In 1981, he reportedly earned a bachelor's degree in labor studies from Rutgers University. He was pursuing a master's degree from Pennsylvania State University before his arrest and imprisonment.
Lesson to Learn
Tom and his former NPFL boss Charles Taylor arrest and incarcerations on different charges in the West, convey a common message to all Liberians; EVIL DOES NOT LAST. The humiliation suffered by Mr. Woewiyu and former President shows that the days of former war lords in Liberia are numbered; their activities in and outside Liberia are being monitored by the International Community with an eagle eye.The western countries including the US are saying to Liberians and peoples of the world that they have no room for the accommodation of individuals, who looted Liberia's coffers and sent hundreds of Liberians to their early graves with impunity.
About the Author: Moses D. Sandy is a US based Liberian journalist and a writer. In recent years, Mr. Sandy has penned several thought provoking articles on corruption, bad governance, and social issues obtaining in contemporary Liberia. He holds a Master's in Social Work (MSW) from the prestigious Temple University located in Philadelphia, Pennsylvania. He's currently, a social work manager.
Disclaimer:

"The views/contents expressed in this article are the sole responsibility of

Unknown Author

and do not necessarily reflect those of The Nigerian Voice. The Nigerian Voice will not be responsible or liable for any inaccurate or incorrect statements contained in this article."