Owerri Youths To Kenneth Uwadi: You're The Real Thief Not Jude Ejiogu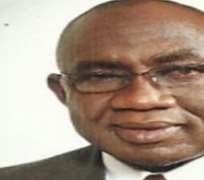 Youths under the auspices of 'Owerri Zonal Agenda Youths' have described Kenneth Uwadi as a professional thief who hides under the cloak of journalism to defraud hard earned money from innocent citizens who refuse to heed to his nefarious 'journalism' negotiation of money bags.
This condemnation came after a media attack against the Chief of Staff of Imo State Government, Sir Jude Ejiogu claiming that he was involved in the looting of over N1 billion pension funds.
The youths described the attack against Ejiogu as the handiwork of low skilled politicians who see the Owerri North born servant-leader as a political threat to their ambitions warning them to desist or be messed up.
In a communiqué issued shortly after their meeting in Owerri and signed by its Chairman, Mr. Canice Shedrack Amadi and Secretary, Dr. Emma Anyanwu respectively, the youths said; 'Our attention has been drawn to the malicious and deliberate attack on the person of the Chief of Staff and Commissioner for Special Duties in Imo State, Sir Jude Ejiogu on the internet by one un-accessible disgruntled and misguided element, KENNETH UWADI, who mask himself as 'corruption fighter or anti-corruption agent'.
'The OWERRI ZONAL AGENDA YOUTHS hereby condemn in its entirety the unwarranted and mischievous publication making the rounds in local, national newspapers and the social media against our ebullient leader, Sir Jude Ejiogu alleging that our son was involved in the looting of over N1 billion pension funds in Imo State'.
'We wish to unequivocally assert that the origin of such ill-conceived propaganda is a figment of the imagination of the writer who is however, on the wanted list of the security agents as we gathered over false publication against prominent individuals in the state'.
It furthered that, 'It is quite obvious that by KENNETH UWADI'sconduct, he has refused to acknowledge the glaring achievements of Sir Jude Ejiogu in the banking sector hence, resorted into name-calling and feeding the public with feeble and deceitful fallacies to justify his pay by his sponsors'.
The youths while hinting further, affirmed their continued support for the Chief of Staff whom they said has provided innovation and effective leadership in Owerri zone and the state at large stressing that they would at all times continue to acquaint the public with some of the landmark changes Sir Ejiogu has brought to the zone.
According to the youths, Sir Ejiogu was first found fit and appointed Special Adviser on Internally Generated Revenue by Governor Rochas Okorocha which he handled with utmost sagacity and later became Chairman of the Board due to his strong position against corruption.
It said, 'Within the period of his coming, as a pacesetter, transparent and result-oriented, the entire state internally generated revenue increased from below N300 million to over N700 million'
'As a result of his astuteness and forthrightness, he was appointed Chairman, Local Government Service Commission by same Governor Okorocha. No doubt, the Commission witnessed tremendous transformation under his watch'
'Convinced as a qualified gentleman and in recognition of his clean record and achievement in the Commission, Governor Rochas Okorocha chose him as Chief of Staff to the State Government. Surprisingly, not up to three months of his inauguration as COS, another appointment of Commissioner for Special Duties was added to his current position thereby making him the first Chief of Staff and Commissioner for Special Duties in the history of Imo State', the communiqué maintained.
The group also disclosed that it is aware that some individuals in the state who see Sir Jude Ejiogu as a threat politically have recruited falsehood writers on social media and beyond as machineries of critics to ensure that glaring image of marked opponents like the COS was dragged to the mud saying that their support for Sir Ejiogu cannot be diminished by cowardly antics of feeble minded politicians who lack the courage, boldness, tenacity, benevolence and political network to compete with the Chief of Staff and Commissioner for Special Duties.
Continuing, the group therefore commended Sir Ejiogu for his maturity and temperance in the midst of such unwarranted provocations maintaining that his disposition was indeed an example of a great leader who is graced with overwhelming majority of Owerri Zone people.
It averred, 'Without any fear of contradiction, we categorically state that there is no person within our zone who possesses such overwhelming followership, political maturity, sagacity and geo-political coverage like Sir Ejiogu'
'Indeed, Sir Ejiogu is a bridge builder who has reconciled and re-united all the political families and heavyweights of Owerri Zone, he has rescued and restored all our great sons and daughters who were forced out of politics due to disenchantment, mistrust, brazen arrogance and intimidation by those who rode on the back of blackmail and politics of bitterness to cause mayhem in our zone'.
The youths therefore resolved not to tolerate further campaign of calumny against the Chief of Staff and Commissioner for Special Duties, Sir Ejiogu and as well advised Kenneth Uwadi to look for something doing instead of witch-hunting innocent people using journalism as a shelter.
Ikenna Onuoha
CPS to Chief of Staff