Miami Herald: Nigeria better-placed than ever for a World Cup?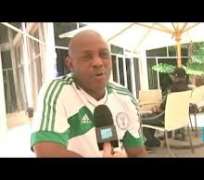 Nigeria may be better-placed than ever to go far at the World Cup if the problems posed by an overbearing football federation stay away.
Nigeria ended a long slump to win the African Cup last year with a powerful display in South Africa under coach Stephen Keshi, beating Ivory Coast and Mali on the way to its first continental title in nearly 20 years.
But off-the-field issues have followed the team and Keshi, Nigeria's captain in 1994 when the country previously won the African Cup and went on to make the second round at the World Cup in the United States as group winner over Argentina.
Keshi quit as coach right after Nigeria won the continental title a year ago, a clear indication of the friction between him and the Nigeria Football Federation. He was convinced to stay, but has sometimes gone months without pay and in the latest of many squabbles had to fend off demands from the NFF that he name his World Cup players two months before the tournament.
The Nigerian public, boosted by the African Cup triumph, also demand the team's best-ever performance at a World Cup and a place in the quarterfinals, even if the Super Eagles failed to win a game in their last two World Cup appearances and haven't made the second round since 1998.
'We still have a lot of work to be done,' Keshi said in response to the now constant question about whether the squad he coaches will do better than the team he captained in 1994. 'Our plan is to try and win our games, game by game, until the end of the tournament.'
The 1994 World Cup team is still the benchmark for Nigeria, which will again face Argentina in the group stage in Brazil, along with Bosnia and Iran.
But Lionel Messi and Argentina aside, Nigeria should expect to qualify for the second round ahead of the other two countries in Group F and may have better strength in depth than the team Keshi led two decades ago.
Forwards Emmanuel Emenike and Victor Moses are powerful and quick, and Chelsea midfielder John Obi Mikel has plenty to prove after falling out of favor at his Premier League club.
Mikel will likely be joined in the center of midfield by 21-year-old Lazio player Ogenyi Onazi, and Sunday Mba was a huge success at the African Cup playing behind the strikers.