5 Nigeria players to watch at the World Cup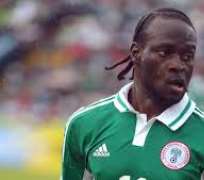 Powered by forwards Emmanuel Emenike and Victor Moses, Nigeria won its first African Cup title in nearly two decades last year. The next step is to achieve something at the World Cup.
Emenike was one of the African Cup's top scorers and Moses won the Man of the Match award in the final.
Alongside those two, central midfielder John Obi Mikel will likely play a pivotal role in Brazil when the team comes up against Argentina, Bosnia and Iran in Group F.
Here are five players to watch:
___
EMMANUEL EMENIKE
The difference between Nigeria with and Nigeria without Emmanuel Emenike is clear.
In the latter stages of last year's African Cup, the Super Eagles powered past Mali 4-1 in the semifinals with him, then sorely missed the injured striker in a tense 1-0 win over Burkina Faso in the final.
The 27-year-old Fenerbahce forward continued his good form with crucial goals in Nigeria's World Cup qualifying campaign, scoring twice in Ethiopia for a 2-1 win in the playoffs.
___
VICTOR MOSES
Struggling for game time at Liverpool, Victor Moses plays a valuable role for Nigeria.
His work out wide or as a second striker was an important factor in the success of Emmanuel Emenike as the pair combined well at the African Cup of Nations.
Moses' lack of action at Liverpool is a cause for concern for Nigeria coach Stephen Keshi, who views the powerful and pacey player as one of his best attacking threats.
___
JOHN OBI MIKEL
Like Victor Moses, Jon Obi Mikel's time on the bench in the Premier League with Chelsea raises worries for his readiness at the World Cup.
With Mikel, Nigeria has the stability in central midfield that allows forwards Emmanuel Emenike and Victor Moses, and midfielders like Ahmed Musa and Sunday Mba, to create and score goals.
Still only 26, Mikel is one of Nigeria's most experienced players.