Gov Aliyu wants IBB, Danjuma, Others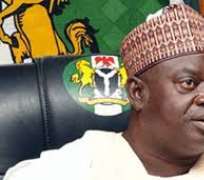 to rescue North from Boko Haram insurgency
Governor of Niger State and Chairman of the Northern States Governors Forum (NSGF), Dr Babangida Aliyu, wants concerted actions of former heads of states and leaders from the North in the fight against Boko Haram, which is compounding the social problems of poverty and literacy levels in the region.
Aliyu said that no effort should be spared in rescuing the region from the stranglehold of the Boko Hram insurgency, which has completely destroyed the economy of the north.
The governor spoke at the maiden convocation ceremony of the Ibrahim Badamasi University, Lapai (IBBUL).
Gov. Aliyu noted that, with concerted efforts from former heads of state and other leaders from the North, the security challenges in the states would be crushed within the next three months.
'I call on General Abdulsalami Abubakar to invite general Danjuma, Shagari, Babangida, to come together and help the NSGF end the scourge of Boko Haram in the next three months,' he said.