Boko Haram attacks shoots three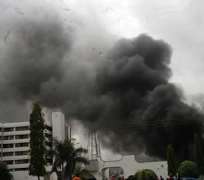 Kimba town in Gur ward of Biu local government area of Borno state has been attacked by gunmen suspected to be members of the Islamic sect, Boko Haram. The attackers burnt down half of the town and shot three people who are currently receiving treatment at Biu General hospital.
A local , Mallam Umar Kimba told journalists in Maiduguri, on Friday, that everybody in the village has fled to seek refuge in Sabon Gari while others fled to Mandara Girau and Biu. According to him, the attackers, came on motorcycles on Thursday night and started firing sporadically before setting the town ablaze.
He said, " as they were firing, they were calling on youths in the village to come out and join in the jihad against the government of infidel and corrupt politicians. " When nobody went out to meet them they started burning the houses and those who hid in their houses started coming out and running to safety while the attackers fired at them. I left Sabon Gari this morning and we have taken the wounded to hospital in Biu before I left."
He also said that what baffles them is that, there are military personnel in the area and wonder how the insurgents managed to bypassl them and attack the village.
" they did not touch the house of the village head .Security operatives came only when they had burnt everything and chased everybody out of the village." he said.