Ecobank secures $200m facility from AfDB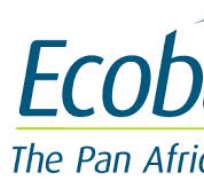 Ecobank Transnational Incorporated (ETI) has secured a $200 million trade financing facility with the African Development Bank (AfDB), the lender said in a statement on Thursday.
According to the bank, the contract signed at a ceremony on the sidelines of the recently concluded AfDB Annual General Meeting in Kigali.
While the Group Chief Executive of ETI, Mr. Albert Essien signed on behalf of Ecobank, Mr. Mr. Alex Rugamba, a Director at AfDB signed on behalf of the institution.
The facility comprises two components: a $100 million unfunded risk-sharing facility to bolster Ecobank's capacity as an international confirming bank for trade transactions originated by issuing banks in Africa ; and another $100 million trade facilitation loan which would be used by Ecobank to provide trade finance support to local corporates and small and medium scale enterprises in Africa.
Over a period of three and half years, the facility would support approximately $1.8 billion of trade transactions in Africa, it added.
'This facility will greatly support international and intra-regional trade in Africa. We look forward to an ever-deepening collaboration with the AfDB to provide vital trade finance support to promote regional integration and the development of SMEs across Africa,' Essien said.