Release abducted girls within two weeks or we match half-naked - Group warns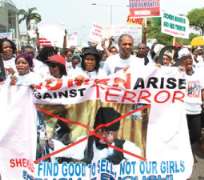 Members of the Women Arise, a civil society group, on Monday threatened to protest half-naked in Chibok, Borno State, if the abducted schoolgirls were not rescued within the next two weeks.
The President of Women Arise, Dr. Joe Okei-Odumakin, said the protest, which began in Lagos on Monday, would go to different states and end in Chibok and Sambisa Forest if the girls were not rescued in two weeks.
'It's a nationwide protest. We are going round all the states. We will be in Enugu tomorrow. We will be in Lokoja, Kaduna, Onitsha, and Akure, and at the end of 14 days, God forbid, if they don't get these girls back, we will go to Chibok half-naked and we will enter the bush to look for them,' she said.
In a letter to President Goodluck Jonathan submitted to Governor Babatunde Fashola, Women Arise demanded that the girls should be rehabilitated when they return and that compensation should be paid to their parents for the trauma they have suffered.
The group said government should recognise the girls as heroes of the war against terrorism.
It also demanded that government should ensure that the girls take the West African Senior School Certificate Examination, which they were taking before they were abducted, and that scholarship should be offered them to university level.
Fashola, who received the protesters, said he would transmit the letter to the President immediately.
He said, 'Chibok is a very dark experience for our nation. It is a difficult time for our nation. It may yet be our most defining moment. It would be defining if we can find the children. It would be defining if after that happens we can keep this brotherhood and sisterhood alive.
'Many nations have turned to greatness when they faced situations like this and developed a sense of unity where religion and ethnicity do not matter anymore. Chibok may be a defining moment that finally unites us and eliminates all our fault lines as a people.'