France offers to host African security summit on Boko Haram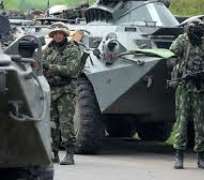 France has offered to host a summit with Nigeria and its neighbors focused on Islamist militant group Boko Haram, President Francois Hollande said Sunday.
Global outrage over the Boko Haram's abduction of 200 schoolgirls last month has focused attention on the group, which has destabilized large swaths of northeast Nigeria and its neighbors.
"With Nigerian President Goodluck Jonathan, I have proposed to hold a meeting with the countries bordering Nigeria," Hollande said during a visit to the Azeri capital of Baku.
"If the countries agree, it should take place next Saturday" in Paris, Hollande added. His aides said that the leaders of Nigeria, Benin, Cameroon, Chad and Niger might attend. Britain, the European Union and the United States would likely be represented as well.
Meanwhile, Israel on Sunday joined the international effort to find the missing schoolgirls, but Washington said U.S. troops would stay out of any rescue mission.
Nigeria's Jonathan spoke to Israeli Prime Minister Benjamin Netanyahu by telephone and accepted an offer for assistance in finding the girls.
France, Britain, the United States and other countries have also said they were sending experts to help Nigeria track down and free the schoolgirls.
Nigeria's army has mobilized two divisions to hunt for the schoolgirls as Jonathan's government has faced criticism for not responding more quickly to the abductions.
Jonathan has said he believes the girls were still in Nigeria and searches were being conducted in the Sambisa forest area of northeastern Borno state, where the military has previously found Boko Haram camps and arms caches.
There have been fears, however, that the girls may have been moved across the border into Chad and Cameroon.
Boko Haram, whose name translates loosely from the Hausa language spoken widely in northern Nigeria as "Western education is sin", has attacked schools, Christian churches, government installations and, increasingly, civilians since 2009.
This year alone more than 1,500 people have been killed, despite a state of emergency imposed in three northeast states in May last year that was designed to put down the insurgency but has failed to stem the bloodshed.
The group was blamed for another attack Friday night that completely destroyed the village of Liman Kara in northeastern Adamawa state.
Kidnappings of young girls and women has been a previous tactic but the scale of the abduction in Chibok, Borno state, on April 14 and threats from Boko Haram leader Abubakar Shekau to sell the girls as slaves has galvanized the international community into action.
Reuters/AFP
Disclaimer:

"The views/contents expressed in this article are the sole responsibility of

The Rainbow

and do not necessarily reflect those of The Nigerian Voice. The Nigerian Voice will not be responsible or liable for any inaccurate or incorrect statements contained in this article."