Bokoharam Vs Chibok Kidnapped Girls: Nigerian Red Cross Society Urges Government To Cease-Fire, Proffers Solution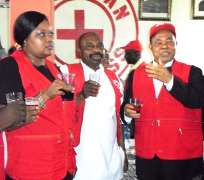 Nigeria Red Cross Society (NRCS) has urged federal government to cease-fire on its bids to resolve insecurity and Boko-haram insurgents in the north-east part of the country.
The disaster management and conflict resolution expert, who urged government to withdraw military and paramilitary apparatus deployed to the troubled areas forthwith as well as to stop using force in addressing similar problems in the country, offered to freely curb the impasse to a halt if the federal government would invite them as conflict resolution expert to mediate between her and aggrieved youths (Bokoharam among other insurgents) ravaging the country as hurricane fire.
Attributing the lingering insecurity, bombings, wanton killings and even the recent kidnapping of school girls at Chibok to bad orientation, illiteracy, poverty and unemployment, NRCS claimed that well informed Nigerians cannot embark on suicide bombing, extra-judicial killings and destruction of lives and properties, and advised government to fully mandate it as it is most qualified NGO that would effectively bring the problem to an end without shedding bloods or incurring expenses through its seven cardinal principles of humanity, impartiality, neutrality, independence, voluntary service, unity and universality; through humanity to peace.
Hon. Justice P.A.C Obidigwe, the Anambra State Chairman of Nigeria Red Cross Society proffered these solutions in a message during the "2014 World Red Cross Day" celebrated yesterday at the state's NRCS headquarters in Awka, the state capital.
The State NRCS Boss who doubles as Emeritus Chief Judge of Anambra State, further advocated for establishment of a "Lead Agency or a Federal Ministry" specifically designed to forestall or address insurgents and aggrieved agitators through conflict resolutions, impact assessment and mitigation strategy by first opening a roll call register in all Local Government Headquarters especially in North-East Zone, the abode of insurgents for registration of Bokoharam members among other similar organizations so as to create and consolidate working figures and data base, in a similar vein Late President Yar'dua assuage the ill feelings and misgivings of the Former Niger Delta militants through amnesty.
According to him, federal government should create "Avoidance to Violence Project (AVP)" through the Red Cross Society which involves grassroot mass dissemination of knowledge on religion, youth management, conduct, peaceful coexistence, education and employment to reduce idleness and frustration that often lead to violent exhibitions and criminalities.
He also enjoined government at all levels to emphasize more on vocational and industrial training of youths as the panacea to National growth, and also conduct a census of the jobless graduates and non-graduates in the country with a view to document a working figure in further plans for rehabilitating the nation's workforce.
Recalling the devastating effects of the sects on the teeming populace, lives and properties, the Emeritus Justice admonished President Goodluck Jonathan in-line with his transformation agenda, to radically "evolve a new strategy of integration, human development for restoration of new self value, new orientation of new religious ideology and sound doctrine, total rehabilitation of wasted citizenship, a new enabling environment for agitators and insurgents to have the desire to pursue value peace, co-existence and assimilation".
Contributing, Prof. Peter Emeka Katchy (Gold Medalist), the State Vice Chairman of NRCS called for mass orientation, basic training and retraining of the country's security apparatus Nigeria's because according to him, they are not organized, inexperienced and ill-equipped to tackle numerous challenges threatening the nation unity, even as he re-emphasized needs to pull-out military from North-East Zone and support them to go-in and champion the much needed elasting peace, unity and growth of the country.
Prof. Katchy who enumerated past and present consecutive efforts of Red Cross Society world-wide in disaster management and conflicts resolutions, boosted that the group would have proffered remedy to end the ugly trend currently devastating the nation as hurricane fire before it even escalated to kidnapping of innocent school girls in Chibok, as they are independently minded, impartial and neutral NGO guarded by seven principles.