Chelsea Captain, John Terry In An Accident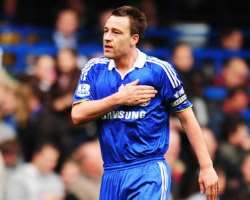 PHOTO: CHELSEA CAPTAIN, JOHN TERRY.
San Francisco March 17, (THEWILL) – Reports reaching THEWILL say Chelsea captain John Terry was involved in a car accident on Tuesday night after Chelsea's Champions League exit.
The accident, which occurred in the club's car park, resulted in a member of the club's security staff sustaining a fracture in the leg.
Terry was questioned by police after voluntarily reporting the incident at a local police station.
A spokesperson for Terry told the Daily Mail: "John was travelling at about 2-3mph, edging towards the exit of the car park, when he was surrounded by a pack of photographers who were jostling the car.
"He drove off unaware of any incident but he's been told since and has rung the injured person and spoken to him."
A Chelsea spokesman said: "We can confirm there was an unfortunate accident as John Terry left Stamford Bridge last night. When driving out of the stadium at approximately 1-2mph in a queue of traffic exiting the ground, his car was surrounded by photographers and fans.
"In the melee that ensued a member of Chelsea's security staff was knocked to the ground, making contact with the car. He suffered a badly bruised leg. John was aware at the time that there was a lot of contact with his car during the incident, but not that anyone was injured as a result.
"Upon hearing of the injury, John spoke to the police. He has also been in contact with the staff member to check on his welfare.''
Terry's spokesman Phil Hall told Sky Sports News: "It wasn't until he was signalled through that he got away from that melee. And it was an hour later before he knew what had happened.
"The club made contact with John and put the police in touch. They breathalysed him but he hadn't had a single drop to drink so the breathalyser showed nothing. John answered any questions they asked and that was the end of the matter. Since then he's found out the name of person and called him.
"He's been to the doctors and has a sprained ankle and I think John's going to see him tomorrow (Thursday).''
Asked further about the injury, Hall added: "I think it was very swollen and the natural instinct from the uninitiated eye was that it was broken but the gentleman concerned spoke to John and said it's not. It's swollen and sprained but he's not blaming John.
"He (Terry) was really upset this had happened because the security guys were obviously trying to help him. He was very apologetic. He's upset this gentleman was injured. The security guys and players are very close because they work together all the time. So he's naturally upset about it.''
|
Article source