Makeup World; Matte Look Or Dewy Look?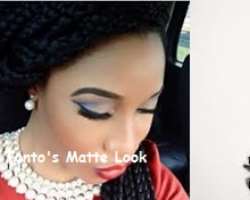 In the sphere of makeup looks, the matte is now what is in vogue while the dewy look is gradually fading away. When the matte look is trending, the dewy look goes underground vis-à-vis.

The matte makeup gives lot of ladies a clean and flawless finish, while the dewy gives a flawless and natural look.

Matte makeup is primarily cosmetic products used on oily skin to reduce shine and oiliness and helps to retain complexion, while the dewy makeup is best on dry, normal skin or normal to dry skin. If the dewy makeup is worn on an oily skin, it adds extra shine to it, thereby creating a 'greasy look' on the skin.

One does not have to get expensive makeup products in attaining a matte look. But everyday basic beauty makeup products such as: a face primer, an eye primer, foundation, concealer, loose or pressed powder, lipstick, oil blotting papers and brushes can give good results.

The above makeup components help in making sure not only that your makeup is matte, but stays 'mattified' for a long period of time as well.

Primers are great in prepping the foundation for a long tow. They also help to keep oil control at bay. In using a primer, it goes a long way to ensuring your entire makeup look stays long lasting throughout the day.
However, the dewy look is a much more young, fresh and nude look.

Apparently, most people think it to be a 'natural look', but the truth is, it actually takes more time and the correct usage of the right products.

The best way to achieve this look is by having a well cleansed, exfoliated and moisturized skin, which is a perfect base to accomplishing it.