IKE UCHE INVITES LAGERBACK TO SPAIN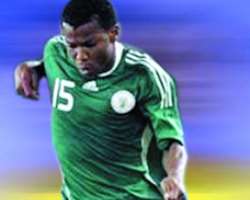 Ike Uche invites Lagerback to Spain
By EPHRAIM NWOSU
Monday, March 15, 2010
Recuperating Real Zaragoza striker, Ikechukwu Uche, has challenged new Super Eagles coach, Lars Lagerback, to come to his base in Spain and assess his fitness level for the World Cup.
Speaking exclusively to SoccerStar on phone from Spain, Uche said he wants the coach to come to Spain and see him if he doubts his chances of making his 23-man squad to the World Cup.
'I have advanced to the final stage of my rehabilitation. I have been jumping, running and kicking the ball in the past few weeks, and I hope to start playing for Real Zaragoza very soon. For my own interest, it's good I prepare very very well before storming the pitch. It has to be a gradual process and not something you rush into,' he pointed out.
'One thing is to be fit and another thing is for the coach to use me. Seeing is believing so Lagerback should come to Spain and confirm for himself if he really needs my services or at least give me a phone call so that I will give him a load down of the situation report about me.'
The former Iwuanyanwu Nationale and Getafe striker insisted that contrary to recent press reports about his uncertainty of playing at the World Cup, he would be as fit as fiddle for the competition, if Lagerback beams his searchlight on him.
'Honestly, the news coming from home is worrisome. The coach should not depend on press reports to confirm my fitness level. For instance, I never spoke with anybody that I will start playing on May 14. It's just a rumour because I have been assured by my doctor that I will start playing before then. By the grace of God I will be available for the World Cup if the coach invites me to the camp,' he reassured.
Uche, 24, was Nigeria's top scorer during the World Cup campaign banging in six goals. He missed the last two games against the Carthage Eagles of Tunisia and the Harambee Stars of Kenya.