Gov. Obi To Render Account On April 8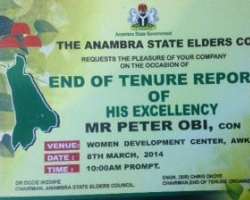 Gov. Peter Obi continues to be a pace setter with his proactive good governance trends. Anambra is abuzz with the news that on 8 March 2014, exactly ten days to his official disengagement from office, the amiable governor will render an account of his his 8-year stewardship to the Anambra people.
As remarkable as the governor's tenure might seem now, and despite all the accolades, his two-term tenure was not always smooth going. His first tenure was rather halting, and made intractable by ceaseless court cases and several attempts to rusticate him out of office, including through a bogus impeachment.
Having survived it all, Gov. Obi went on to alter the political and leadership landscape of Anambra, at times, employing unorthodox but very effective governance methods that rankled his critics, but endeared him to the people at the grassroots. Through it all, he earned national and international attention for his purposeful leadership.
It is understandable, therefore, that the Anambra delegation that accompanied him to a thank you and solidarity visit to President Goodluck Jonathan, on 4 March, told the president that they were contemplating Gov. Obi's departure from office with "mixed feelings." Many continue to express their concerns openly, on whether his legacies and levels of good governance and accomplishment could be matched and sustained.
Anambra today, is a positive far cry, from the rascality prone and insecure state Peter Obi had inherited from Dr. Chris Ngige.