NFF unveils World Cup jersey for Super Eagles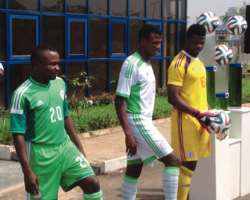 The Nigeria Football Federation (NFF) on Thursday in Abuja unveiled new sets of jerseys for the Super Eagles, ahead of the Brazil 2014 FIFA World Cup. The federation defended the new colours insisting it had nothing to do with the colours of one of their partners Globacom.
The jerseys came in three sets of Green and lemon, white, lemon and green, as well as orange and black, for the goalkeepers.
The NFF President, Aminu Maigari, said the football house chose the new colours to strike a balance between the present and future national teams, especially the Super Eagles.
Maigari, who was represented by the NFA's First Vice President, Chief Mike Umeh, said the Eagles would officially use the jersey during their March 5 international friendly against Mexico in the USA.
The Director-General, National  Sports   Commission, Gbenga Elegbeleye, said the Super Eagles were the biggest brand in African football.
'It has not been so good in so short a time in the history of Nigerian football, having won the Africa Cup of Nations last year and the Under-17 World Cup.
'I believe that these new jerseys will give us the luck to win more laurels, score more goals, concede less or probably not concede any goal at all,' Elegbeleye said.
He urged the leadership of the NFF to consolidate on the successes achieved so far by surpassing the quarterfinal record attained by African teams in previous World Cup editions.
The Secretary-General, NFF, Musa Amadu, said the unveiling was necessary to enable Nigerians criticise the jerseys. The NFF secretary said the colours of the jerseys had nothing in common with that of telecommunication company, Globacom, as speculated in some quarters.
'It is a balance between tradition and innovation; the bulk of the jersey is green. Don't forget that we have used something similar in 2002 but this is better.'