Boko Haram: Court Frees Nine Suspects From Detention , Awards N10m Damages Against FG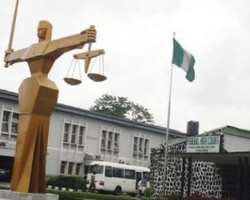 SAN FRANCISCO, February 23, (THEWILL) - Freedom has come for nine Boko Haram suspects, namely  Abimel Ibrahim, Isah Kano, Yambali Umaru, Danga Wilfred, Jimmy Oba, Ilita Mark, Sadebo Ali Amatig, Michael Manu and Yakubu Douglas.
An Abuja High Court presided by Justice Peter Affen which ruled that they had been detained illegally has ordered that they should be released from detention and should not be re-arrested or detained.
The Federal Government was also ordered to pay them N10m damages as compensation for detaining them illegally.
Ruling on their case in a   judgment delivered on February 5,Justice Affen found merit in an application for an order of the enforcement of fundamental rights of the nine suspects.
And declaring  that the detention and torture of the applicants in Abuja since May 2012, 2013  by agents of the Federal Government without arraigning them in court was unlawful, unconstitutional and a violation of their fundamental right to dignity of human person and personal liberty.
Justice Affen said the act of detention and torture in the instance case violates sections 34 & 35 of the constitution of the FRN 1999 as amended as well as articles 5 & 6 of the African Charter on Human and Peoples' Rights.
According to the judge, "The respondents shall forthwith release the applicants from detention and they shall not be rearrested or detained on the same facts disclosed in the present application save and except upon the orders of a superior court of record.
" He added: "The respondents shall pay to the applicants the sum of N10million as compensation for the gross violation of the applicants' fundamental right to personal liberty as enshrined and guaranteed under section 35(1) of the 1999 constitution.
I assess the costs of this application at N50,000.
00 in favour of the applicants and against the respondents.
" Through their counsel,  Mr.
Wuyep, the nine suspects  had asked the court to declare that their arrest, detention and torture by the agents of the Federal Government without trial and without an order of court first sought and obtained was unlawful, unconstitutional and a gross violation of their rights.