How Darey Art Alade's 'Love Like A Movie' Concert Almost Ruined Kelly Roland's Day In Lagos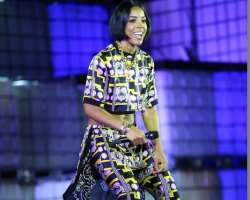 The "Love Like A Movie' concert may have come and gone, but like its first edition, it was not without the 'usual' controversy. The event was packaged by Darey Art Slade, even though it ended well, someone's career was almost put on the line. At the debut edition held last year, the choice of the host, Kim Kardeshian was criticised by many Nigerians. Not only that, she didn't spend much time in the country as some would have expected her to, just like the likes of Akon, Wyclef Jean and others did when they visited the country for the first time.
Nigeria, as some regard her, is a 'jungle' where sometimes the most awkward things are seen as normal. Even when the President of the country is at an event, he is not spared of the 'usuals'. There have been cases where the electricity supply have been cut while the President is speaking. That is how bad situations are in Nigeria.
It is no more a secret that American star, Kelly Roland was in Lagos over the weekend for the 'Love Like A Movie' concert, which was held at Eko Hotel and Suites, Victoria Island.
As expected, the sound almost ruined her day in Nigeria as she reportedly left the show in anger, but later had a change of mind. You would understand why, she is not used to environment where such issues, which used to be a reoccurring decimal in the 19th century in most advanced countries.